politics
Italy Finance Chief Hits Campaign Trail to Save His Reforms
By
Market sees him as guarantor of public finances, analyst says

Padoan trying to shield his political legacy by running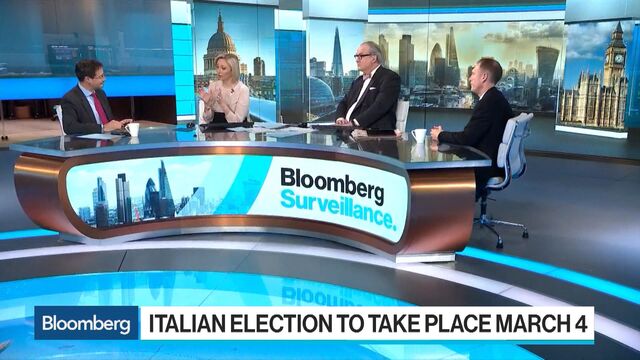 Italy's Finance Minister Pier Carlo Padoan is joining the rough-and-tumble world of political campaigning ahead of March 4 elections in a bid to further his reform legacy.
Padoan, who at 67 has never been a member of parliament, has decided to run as a candidate of the ruling Democratic Party after four years of serving as minister. He hit the campaign trail Tuesday night, meeting with supporters of a local party branch in Rome's gritty Esquilino neighborhood near the main train station.

In a small sparsely decorated room with red communist flags hung up hastily, supporters listened to Padoan's no-nonsense list of achievements, punctuated by phrases including "reforms take time to bear fruit," and "by respecting the rules, Italy can ask for respect of the rules."
The audience, made up mostly of retired professionals in their 60s and 70s, gave Padoan a short round of applause after his delivery and then put questions about pensions, relations with the European Union and even cigarette taxes. Some took the stage to express their wish that Padoan will remain in power despite voting-intention polls indicating his party increasingly losing support across the country.
"It's good to hear a realistic speech in an election campaign marked by so many promises to scrap reforms or perform magic tricks that will change things," said Stefania Di Serio a party representative in the local borough who had come out to hear the minister.
Country Divided
Earlier this week, Padoan said he was jumping into the fray because the country is divided between those who "want to undo what has been done" and those who, like him, want to defend it.
With polls suggesting no party will have enough votes to form a government after the elections, a grand-coalition is among the most likely scenarios, JPMorgan's Gianluca Salford and Marco Protopapa wrote in a note last week.
In such a scenario, Padoan, a former chief economist at the Organization for Economic Cooperation and Development who saw Italy through its banking crisis and tenuous economic recovery, could be reappointed to send a message of stability to international markets.
"Padoan is seen as a 'guarantor of public finances'," said Nicola Nobile an economist at Oxford Economics. "An election would better place him to have a key role in the next government" and in a possible grand coalition.
Read more: Bloomberg Economics on Italy's election and the economy
Running for office may however be a risk, in an environment so uncertain that even a top minister may not succeed in getting elected. If Padoan loses, it might prejudice his chances of reappointment said Francesco Galietti, head of the Rome-based political consultancy firm Policy Sonar. It wouldn't look good to add to one's status of minister that of "would so much have liked to be a lawmaker but failed."
Milk, Gasoline
The finance minister's previous attempts to woo the masses haven't always been successful. During the 2016 constitutional-referendum campaign that led to the defeat of then-premier Matteo Renzi and to the subsequent appointment of a new prime minister, Padoan was unable to reply to man-on-the-street questions that Northern League leader Matteo Salvini asked him on a show aired on the state-run RAI television network.
"Minister, do you know the price of a liter of milk? And what about the cost of a liter of gasoline?" Salvini asked a flustered Padoan who didn't respond right away and appeared to be looking for notes among a pile of papers in his lap.
Still, Padoan seems confident. Earlier this week he told RAI that after university he was active in politics at a "grassroots" level and therefore isn't afraid to try his hand at it again, even if it means hitting the campaign trail up and down the peninsula.
— With assistance by Marco Bertacche, and Zoe Schneeweiss
(
Adds details of meeting in fourth paragraph.
)
Before it's here, it's on the Bloomberg Terminal.
LEARN MORE