Democrats Challenge Homeland Security Secretary's Recall of Trump Meeting
By , , and
Nielsen says she doesn't recall specific vulgarity from Trump

DHS chief questioned at hearing about Oval Office meeting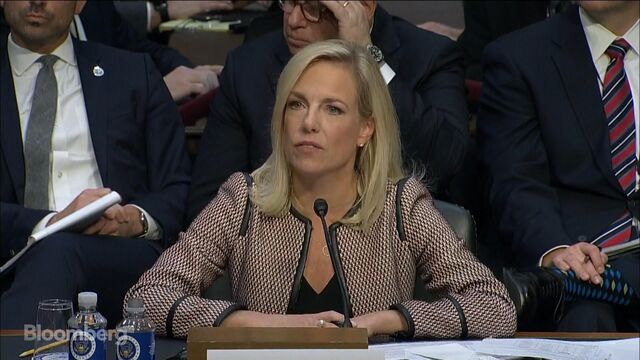 Several Democrats challenged Homeland Security Secretary Kirstjen Nielsen Tuesday on her statements that she couldn't recall whether President Donald Trump used a vulgarity to refer to Haiti and African nations during a White House meeting on immigration.
"You are under oath. You and others in the room suddenly cannot remember" what the president said during the Jan. 11 meeting in the Oval Office, Democratic Senator Cory Booker of New Jersey said in an impassioned speech during a Senate Judiciary Committee hearing. "Your silence and your amnesia is complicity."

The president referred to Haiti, El Salvador and African nations during the meeting as "shithole countries" and said he preferred to receive immigrants from countries like Norway, according to Democratic Senator Dick Durbin, who was at the meeting, and other people who were briefed on it afterward.
The furor over the president's reported remarks has hardened positions on both sides, as Democrats seek to attach legislation shielding young immigrants from deportation to a must-pass government spending bill to avert a shutdown at the end of this week. Republican leaders in Congress are angling for another short-term funding measure to keep the government open. Democrats say it's Trump's responsibility to end the stalemate.
Trump has denied using the vulgar word, and Nielsen said repeatedly Tuesday that she didn't hear the president say it.
"I did not hear that word used, no sir," Nielsen said at the hearing. "The conversation was very impassioned. I don't dispute that the president was using tough language. Others in the room were also using tough language."
Plan Presented
At the meeting, Durbin and Republican Senator Lindsey Graham of South Carolina presented to Trump a bipartisan proposal to protect undocumented immigrants brought to the U.S. as children, known as "dreamers."
Graham said Tuesday he wanted to know what happened between 10 a.m., when Durbin said he had a positive telephone conversation with the president, and noon on Jan. 11, when he said Trump's attitude changed from interest in the bipartisan compromise plan to heated opposition.
"This has turned into an s-show and we need to get back to working together," Graham said.
"I don't think the president was well served by his staff," Graham told reporters later outside the hearing room. "I think somebody on his staff gave him really bad advice between 10 o'clock to 12 o'clock on Thursday."
Outnumbered
Durbin told reporters outside the hearing room that Trump told him at 10 a.m., "I can't wait to hear what's involved in it." By the time of the meeting at noon, the senator said, someone on Trump's staff had invited other members of Congress "who generally oppose all immigration reform. The idea was clearly to outnumber us and to kill our efforts."
Durbin said he suspected senior Trump adviser Stephen Miller, a White House hardliner on immigration, had worked to tilt the meeting. "Any effort to kill immigration reform usually has Mr. Miller's fingerprints on it, so I wouldn't be a bit surprised if he's a part of this," Durbin said.
Ending DACA
Trump decided in September to end Obama-era protections for the young immigrants, known as the Deferred Action for Childhood Arrivals program, on March 5.
The Justice Department said Tuesday it will go directly to the U.S. Supreme Court to appeal a San Francisco federal judge's Jan. 9 ruling that blocked Trump's decision to end the "dreamer" protections. Attorney General Jeff Sessions said in a statement that "it defies both law and common sense" for a judge to issue a nationwide order. The Supreme Court rarely grants review without letting a federal appeals court consider an issue first.
Graham made a promise to the young immigrants Tuesday, saying, "We're not going to leave you behind. I don't know how this movie ends, but you're going to be taken care of."
In repeated questioning by Democrats on the Judiciary panel, Nielsen said she didn't hear Trump say any other version of the vulgar word, though she acknowledged the president might have said it and she didn't hear it. "Anything is possible," Nielsen said.
She said others used tough language at the White House meeting, mentioning Graham by name. That drew a quick rebuke from Durbin.
'Decent, Honest'
Durbin said Graham "spoke up in a way that I respect very much, countering what the president said about countries in Africa. In defense of Senator Graham, his words repeated exactly the words used by the president, which you could not recall."
Graham later returned the compliment to Durbin, calling him a "decent, honest man."
Booker said he was "seething with anger" at Trump's reported comments, saying that such statements "give license to bigotry and hate in this country."
During further questioning of Nielsen by Booker, she acknowledged that she hadn't knowingly met with any recipients of DACA protection.
Earlier, Durbin told reporters that he stands by his comments about the meeting with Trump. "I stand by every word I said," he said. He said he and a number of Republicans will introduce a bipartisan bill on Wednesday to aid the young immigrants and strengthen the border.
Senator Orrin Hatch, a Utah Republican, said during the hearing, "I actually think that we can get this done." He urged Democrats to stop pushing for a "clean" bill to aid the young immigrants, and said his fellow Republicans need to "be realistic."
Before it's here, it's on the Bloomberg Terminal.
LEARN MORE