Einhorn's Greenlight Capital Adds Stakes in Brighthouse and Twitter
By and
Brighthouse trades at 40% to 50% discount to similar firms

Greenlight hedge funds rose 1.6% last year, trailing rivals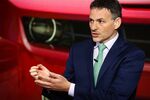 David Einhorn's Greenlight Capital is touting a new stake in Brighthouse Financial Inc., an annuities and life insurance company spun out of MetLife Inc. in August, as the hedge fund tries to rebound from a disappointing year.
Brighthouse, which has more than $220 billion in assets, is a more capital-intensive operation than the businesses that MetLife kept, and is closely linked to fluctuations in financial markets. Analysts are "laser focused" on the company's downside risks from a bear market, rendering them "too pessimistic" about the company's shares, Greenlight wrote in a quarterly letter to investors Tuesday seen by Bloomberg. Shares trade at a 40 percent to 50 percent discount to similar companies, the money manager wrote.
Einhorn's hedge funds lagged rivals and markets last year, rising 1.6 percent. The average hedge fund rose 6.5 percent while the S&P 500 Index returned nearly 22 percent.
"This must be frustrating to you, our Partners. It is certainly frustrating to us," the firm wrote in the letter. It said losses came from its "bubble basket" of technology shorts -- including Amazon Inc., Athenahealth Inc., Netflix Inc. and Tesla Inc. -- and a wager against Caterpillar Inc.
Greenlight also said it took a small position in Twitter Inc. With improvements in user experience, the number of visitors and the time they spend on the site has grown, the firm said.
"As a result, we believe TWTR will have a pitch to advertisers in 2018, which should lead to revenue growth," Greenlight wrote.
Here are more highlights from the Jan. 16 note:
Took small position in Ensco Plc as shale oil supply growth probably won't be able to meet global demand, leaving offshore drilling to fill the gap
Repurchased a stake in Time Warner Inc. when the stock fell in response to the U.S. government opposing sale to AT&T Inc. "We think that the Department of Justice has a weak anti-trust case and the merger is likely to go through," Greenlight wrote in the letter.
Exited positions in Hewlett Packard Enterprise Co., Rite Aid Corp., VanEck Vectors Gold Miners ETF, ISS A/S and closed an unsuccessful short in Deere & Co.
Said General Motors Co., its biggest winner of the year, remains significantly undervalued
Largest disclosed longs at year-end were AerCap Holdings NV, Bayer AG, Brighthouse, General Motors, and gold
— With assistance by Katherine Chiglinsky
Before it's here, it's on the Bloomberg Terminal.
LEARN MORE