politics
EU's Tusk, Juncker Dangle Hope That U.K. Will Reverse Brexit
By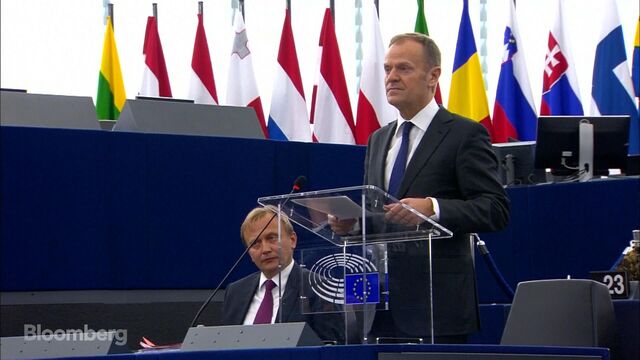 Follow @Brexit on Twitter, join our Facebook group and sign up to our Brexit Bulletin.
European Union leaders kept alive the notion of the U.K. reversing its plan to leave the bloc in a sign of lingering hopes that British Prime Minister Theresa May will halt Brexit scheduled for March 2019.
EU Council President Donald Tusk and European Commission chief Jean-Claude Juncker dangled the idea as both sides gear up for the start of negotiations on Britain's post-Brexit ties with the bloc -- a phase that leaders in Europe have said will be tougher than the initial talks on the divorce terms.
"If the U.K. government sticks to its decision to leave, Brexit will become a reality with all its negative consequences in March next year, unless there is a change of heart among our British friends," Tusk, who chairs meetings of EU government heads, told the European Parliament in Strasbourg, France on Tuesday. "If a democracy cannot change its mind, it ceases to be a democracy. We, here on the continent, haven't had a change of heart; our hearts are still open" to Britain.
Read more: Nigel Farage, Champion of Brexit, Backs a Second Referendum
The comments reveal a consensus across the EU that Brexit is a colossal mistake for the U.K., a major headache for the continent and a choice that Britons could reverse if only they can muster the political courage.
"Our door still remains open," Juncker said in the 28-nation EU Parliament debate on Tuesday. "I hope that that will be heard clearly in London."
Later on Tuesday, May was again forced to insist that she will not be reversing Brexit. In a call with Austrian Chancellor Sebastian Kurz, May "confirmed that the government will respect the decision taken by the British public to leave the EU," a statement from her office said.
— With assistance by Tim Ross
(
Adds details of May, Kurz phone call in sixth paragraph.
)
Before it's here, it's on the Bloomberg Terminal.
LEARN MORE