ECB Confronts New Inflation Reality Jolted by Oil and Euro
By
Oil prices and the euro exceed ECB's forecast assumptions

Higher inflation could aggravate tensions on when to end QE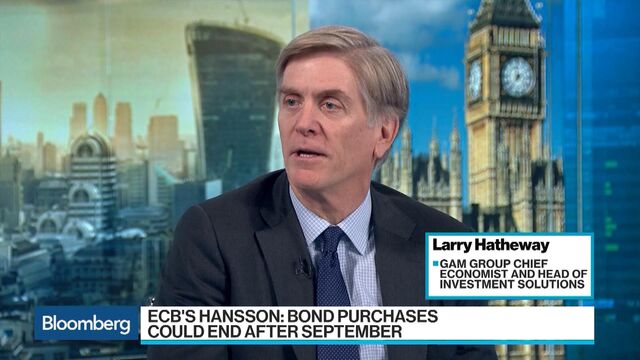 European Central Bank policy makers on both sides of the debate over when to end quantitative easing are getting new evidence to back their arguments -- thanks to oil and currency markets.
On the one hand, surging energy prices are set to feed into euro-area inflation and embolden policy makers who want the ECB to set an end-date for its 2.6 trillion-euro ($3.2 trillion) bond-buying program. At the same time, a strengthening euro could damp prices, giving ammunition to officials who say the outlook is still too uncertain to justify tying their hands.
The global market moves come at a sensitive time for the ECB, which is judging how to react as the economy grows at its fastest pace in a decade but inflation stays subdued. The Governing Council could be set for months of conflicting public messages that undermine its intention to communicate with a "steady hand" on policy. The current program of bond buying is set to expire at the end of September.

The ECB's latest forecasts see a dip in inflation this quarter and little improvement in the rest of the year. The core rate, excluding energy as well as other volatile items such as food, is expected to remain largely stable but too low. The headline rate is currently at 1.4 percent while the underlying rate stands at 0.9 percent.
"The headline forecast has to go up, but you're still going to have this divergence in staff forecasts between core inflation and headline," said Claus Vistesen, chief eurozone economist at Pantheon Macroeconomics in Newcastle, U.K. "Given the most recent history of the ECB you would expect the doves to win."
What Our Economists Say...
"If pay gains stay soft, as BE expects, the central bank is likely to extend its asset-purchase program beyond September."

-- Jamie Murray, Dan Hanson, Maxime Sbaihi, Niraj Shah, and Scott Johnson, Bloomberg Economics

For more, see our Euro-Area Insight
Oil has been a frequent frustration for the ECB. When crude started 2017 higher than a year earlier, causing headline inflation in Germany to climb to 2.2 percent, ECB President Mario Draghi stressed the weakness of core inflation to justify continued stimulus. When the euro appreciated later that year, some officials expressed concern it could damp prices too much.
Inflation Forecasts
The ECB's latest forecasts -- published on Dec. 14 -- are based on an assumption that Brent crude oil will average $61.60 a barrel this year. Instead it has averaged more than $68 so far in January and has topped $70 for the first time in three years. Likewise the euro, which was assumed to average $1.17, is currently at almost $1.23 -- near its strongest level in more than three years.
Hawkish policy makers have been the first to speak out in the debate over stimulus plans in 2018, with Bundesbank President Jens Weidmann advocating a definite end-date to bond purchases. On Monday, Estonian Governing Council member Ardo Hansson said the euro's appreciation "is not a threat to the inflation outlook."
French Governor Francois Villeroy de Galhau countered that view in an interview published Tuesday when he said the recent evolution of the exchange rate "is a source of uncertainty which requires monitoring with regard to its possible downward effects on imported prices."
Investor sensitivity to messages from the ECB was highlighted last week, when the euro and bond yields soared on revelations that the council agreed last month that a review of its policy language may be warranted early this year.
While new forecasts aren't due to be published until March, Draghi is likely to be quizzed on the euro's appreciation at the press conference following the policy decision on Jan. 25.
"Domestic price pressures -- which the ECB has the best chance of being able to influence -- are rising only very slowly," said Jack Allen, European economist at Capital Economics in London. "The main thing that the ECB is going to be looking out for is signs that wage growth is picking up, and so far those have been completely absent."
Before it's here, it's on the Bloomberg Terminal.
LEARN MORE