Czech Cabinet Quits as Tycoon Premier Heads for More Talks
By and
Babis's minority cabinet remains in caretaker role for now

President Zeman vowed to give Babis second chance for cabinet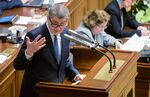 Czech billionaire Andrej Babis headed for fresh political talks aimed at forming a majority cabinet after his first government failed to win a vote of confidence in parliament and was forced to resign on Wednesday.
Potential coalition partners snubbed Babis on concerns he may be charged over alleged fraud. Still, the month-old cabinet may remain in a caretaker mode. President Milos Zeman has vowed to appoint Babis as premier again, giving him another chance to rule. The second-richest Czech said Wednesday he'll hold preliminary talks with the Social Democrats, his former coalition partners.
"Babis has repeatedly shown that he's able to change his opinion overnight and choose a different strategy," Stanislav Balik, a political scientist at Masaryk University in Brno, the nation's second-largest city. "He can offer the parties a direct participation in the government, which he hasn't done up till now. He would have to give up his dream of a one-party government as an ideal model."

Instability has crept into the European Union's former communist east this year, with Romania's government unraveling and Poland shaking up its cabinet. Despite the political turmoil, Czech assets and the economy, one of the EU's fastest-growing, have remained immune. The koruna, the best performer among the world's major currencies last year, is 0.5 percent stronger against the euro so far in 2018.
Read more about Babis's struggles to find coalition partners
Political deliberations may be influenced by the outcome of a presidential election after Zeman failed to win the first round of a ballot last weekend in his bid for a second five-year term. He'll face a challenger, Jiri Drahos, a chemist-turned-politician running as an independent on a pro-EU platform, in Jan. 26-27 runoff.
Babis, whose fortune is estimated at more than $4 billion, was charged with fraud before the election. He reiterated on Tuesday he did nothing illegal and parliament will vote Friday on stripping him of his immunity to for his prosecution to advance.
Story about investigation of possible misuse of EU aid funds
The billionaire has ruled out formal cooperation with fringe parties, which are the anti-Muslim Freedom and Direct Democracy and the Communists, the direct descendants of the party that ruled the country before the fall of Iron Curtain. Mainstream parties have so far ruled out joining Babis in cabinet as long as the probe is ongoing.
"The ball is in ANO's court," Petr Fiala, chairman of the second-strongest party in parliament, the Civic Democrats, said on Tuesday. "If we take what the parties have said at face value, then ANO must choose a different person to allow the government to be created."
Before it's here, it's on the Bloomberg Terminal.
LEARN MORE