business
Why Won't Companies Release Gender Pay Data? It's Embarrassing
By and
Fewer than 600 have reported salary data for men and women

"There's a need for companies to explain" any big differences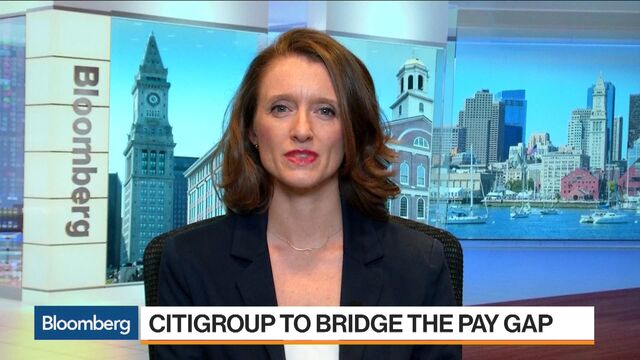 Less than three months before a deadline for reporting the pay gap between men and women, British companies are holding off releasing data, reluctant to be the first to reveal potentially embarrassing information.
Fewer than 600 of the 9,000 companies required to report have done so as many seek to avoid scrutiny, says Rupert Younger, director of Oxford University's Centre for Corporate Reputation. One concern is that while pay for equal roles may be comparable, aggregate salary numbers will show large gaps because men often outnumber women in senior positions.
"From a communications perspective it will be very tempting for companies to wait until the last month in order to be lost in the crowd," Younger says.
The law, passed in 2010, requires companies with more than 250 U.K.-based employees to report their average hourly pay gap, median pay differential, and differences in bonus pay. A handful of large companies, including Accenture, easyJet and Virgin Money, have released their numbers -- even though they show sizable differences between male and female pay.
Positive Picture
While the deadline for reporting is April 5, thousands of companies have yet to show their hand. And about 10 percent of 300 mid-size companies surveyed by accounting firm RSM say they'll probably fail to report on time. Some are delaying because they want to get results verified, while others are holding back to figure out a way to spin the data to their benefit as the government website set up to publish the data allows them to offer a written explanation of their numbers, says Kerrie Constable, a human resources consultant at RSM.
"Most employers want to comply, but they want to paint a positive and reflective picture," Constable says. "There's a need for companies to explain the gap."
The law only requires that companies reveal pay gaps -- not close them -- but there's growing concern about how the data will be interpreted, says Brian Levine, a partner at Mercer Consulting who helps companies compile figures to comply with the law. One concern for global companies is that employees outside Britain will want to know the gap in their own countries, Levine says.
To prepare, many companies are compiling global data and, "with an eye toward ensuring progress is made against any statistically significant gaps," some in the U.S. are calculating differentials among various ethnic groups, Levine says.
No Hiding
Levine says the differential for women and men with similar backgrounds and jobs is just a few percent. But data published so far under the British law -- which also requires companies to publish statistics on the percentage of men and women in each of four pay quartiles -- shows the number of women declining markedly as pay increases.
That highlights the continuing lack of women in higher paying jobs, according to Jeremy Miles, a Labour Party member of the regional Welsh Parliament. "Weak representation of women at senior levels is not the explanation, it's the problem," Miles said in a Jan. 6 tweet.

Even at companies with female CEOs, the gaps can be substantial. Virgin Money -- led by Jayne-Anne Gadhia, who heads a group focused on improving opportunities for women in finance -- reported that its women earned 32.5 percent less than men. That's down from 36 percent a year earlier, and Virgin says it will keep reducing that in the coming years as it seeks to achieve gender parity across the company by 2020.
"Closing the pay gap is part of a strategy to create the right culture for both women and men to flourish," Gadhia said in a statement. "Now is not the time to hide or hold back."
Before it's here, it's on the Bloomberg Terminal.
LEARN MORE