Ramaphosa Says He Wants No Delay in South African Graft Probe
By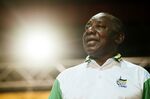 The investigation into allegations that President Jacob Zuma oversaw "state capture" by allowing members of the Gupta family to influence cabinet appointments and the awarding of state contracts should focus on these pressing matters, Cyril Ramaphosa, President of the ruling African National Congress and Deputy President of South Africa, said in an interview aired on Sunday on broadcaster eNCA's website.
"There are those calling for a broadening of the commission and going back to '94," or even earlier, Ramaphosa said. "Don't delay it, wrong things have been done that are known by people who are known -- and those are the ones we must investigate."
Zuma announced on Tuesday that he will appoint a commission of inquiry into allegations that the Gupta family was allowed to influence state decisions, abiding by a court-ruling which ordered him to do so. Ramaphosa, 65, took over control of the ANC at the party's national conference on Dec. 18 from Zuma, whose tenure as the nation's president has eroded support for the ANC and led to mounting calls from within its ranks for him to resign.
Before it's here, it's on the Bloomberg Terminal.
LEARN MORE