Carillion Makes Last Ditch Bid for U.K. Bailout, Mail Reports
By and
Struggling construction firm needs 300 million pounds: report

Ministers keeping 'close eye' on company: Tory chairman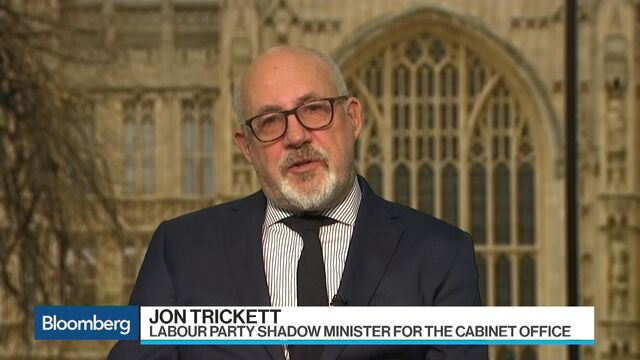 Carillion Plc is holding talks with the U.K. government Sunday to ask for the 300 million pounds ($412 million) it needs by the end of the month to stay afloat, the Mail on Sunday reported, without saying where it got the information.
The troubled construction company already receives more than 1 billion pounds of taxpayers' money a year, the Mail said. It had long-term debt topping 900 million pounds as of June 2017, and a pension deficit of 587 million pounds. Three public-private partnership contracts are at the root of its problems, according to a separate report by the Sunday Telegraph. A spokeswoman for Carillion declined to comment.
"It's a very commercially sensitive situation," Conservative Party Chairman Brandon Lewis said on the BBC's Andrew Marr Show on Sunday, when asked about the possibility of a taxpayer bailout. "I would hope to see that the working capital that they need will be there working with their partners. Ministers and my colleague the Secretary of State for Business is keeping a very close eye on it."
The crunch meeting was set to begin at 10 a.m. local time, according to the Financial Times. The government isn't expected to bow to Carillion's demands, making it increasingly likely the company will go into administration, the FT said. Officials are conscious that "the clock is ticking" before the market opens on Monday, the FT said, citing unidentified government sources.
The company's lenders met with British officials on Friday night, according to earlier reports by Sky, which also cited unnamed government sources. The government decided against providing a direct financial bailout, the broadcaster said.
Carillion shares fell more than 40 percent on Thursday and Friday, after rising earlier in the week on optimism about the business plan the company was set to present to lenders. The stock has tumbled 94 percent since the end of 2016.
Before it's here, it's on the Bloomberg Terminal.
LEARN MORE