Australia Will Be Hard Pushed to Match Last Year's Jobs Bonanza
By
Record employment numbers aren't translating into wages growth

Hiring intentions holding up with vacancies at record high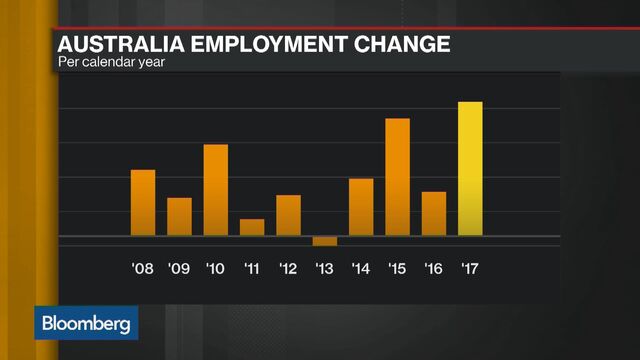 If history is any guide, the Australian job market's phenomenal pickup in 2017 won't be repeated this year. Can it buck tradition?
Westpac Banking Corp. estimates the current annual jobs growth of 3.2 percent is equivalent to U.S. payrolls adding 4.6 million workers over the same period, and so doesn't seem sustainable. On the other hand, with Australian vacancies climbing to a record high toward the end of last year, firms' hiring intentions appear to be holding up.
That's partly because continued anemic wage growth has made workers more affordable, while record-low interest rates have cut investing costs. But these factors also suggest a deeper malaise in an economy where households are struggling to balance record-high debt with miserly income growth, forcing them to tap savings to keep consuming.
"Forward indicators of hiring intentions continue to suggest the labor market will tighten further with the unemployment rate edging lower towards 5 percent in 2018," said Ryan Felsman, a senior economist at the securities unit of Commonwealth Bank of Australia. "The transmission from strong employment growth to pay rises for employees remains elusive," he added, predicting wage growth and inflation will "gradually pick up" this year.
A 5 percent jobless rate is generally seen as full employment, a level that should stoke wage growth as employers favor skilled workers. Yet this nexus has broken down in major developed economies. In addition, unusually for a developed economy, Australia has strong population growth -- based on high-skill immigration -- that keeps demand in the economy.
Wither then Australia's labor market? The following charts offer some clues:
Australia's labor market has a tough act to follow in 2018, especially as most of last year's roles were full-time. In the past decade, a very strong year has historically been followed by a weaker one. While jobs in mining construction boomed in 2010, hiring cooled the following year amid a glut of resource supply. The strength of 2015 was largely down to part-time jobs.
While the government has hailed the employment gains and attributed them to strong economic management, it's received little in the way of political dividends. Indeed, it would be thrown out of office if current opinion polls were reflected in a general election.

Despite Australia's reputation as a vast quarry, the economy is services-based, accounting for about 70 percent of gross domestic product. Employment is led by health care and social assistance -- reflecting an aging population, in line with other developed nations -- and the retail industry.
Construction is a third major pillar of employment. It grew rapidly during the mining boom as companies sought to meet Chinese demand; the completion of the new mines coincided with the central bank slashing interest rates to spur residential construction and scoop up workers from the resources industry. As house-building has tapered, the government has stepped up on long-overdue infrastructure investment that needs workers with similar skills.
Women taking up jobs has been a major factor in Australia's jobs growth. This reflects greater accessibility of childcare -- despite strides forward in equality, women remain primary carers -- and increased flexibility in work hours and location. But a key factor is stretched finances. In Sydney and Melbourne in particular, it isn't feasible for families to survive on a single salary for an extended period of time.

Despite Australia's full-time surge last year, unemployment fell by just 0.3 percentage point in the year through November to 5.4 percent. That's largely because participation in the jobs market is at the highest since 2011, with the population expanding by about 1.6 percent -- which means Australia needs to generate a large number of jobs just to keep unemployment steady.
If hiring strength is maintained, the labor market should tighten and employers will pay more for skilled workers -- in theory. But until there are consistent wage rises that help generate stronger inflation, the central bank is likely to remain on the sidelines and leave interest rates at a record low 1.5 percent.
But if wages and inflation do pick up, the RBA will likely pounce and tighten. The big question then will be how heavily indebted households respond.
— With assistance by Kimberley Painter
Before it's here, it's on the Bloomberg Terminal.
LEARN MORE