Your Evening Briefing
Here are today's top stories
By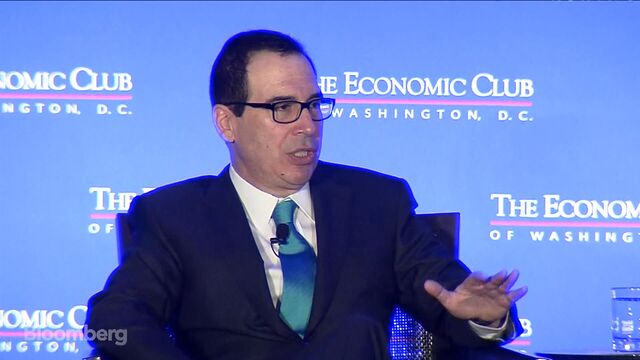 Want to receive this post in your inbox every afternoon? Sign up here.
The U.S. government's spending authorization expires Jan. 19. As the congressional leadership scrambles to assemble a deal to avoid a shutdown, tensions are rising on both sides of the aisle. Enjoy the long Martin Luther King Jr. weekend, everyone. Next week promises to begin just as testily as this one ended.—Josh Petri
President Donald Trump blew up negotiations on a potential immigration deal, raising the risks that a standoff will sink talks aimed at averting a government shutdown. Although Republicans control Congress, their thin margin in the Senate means Democratic votes will be needed for any stopgap funding measure as well as a broader budget agreement. Democratic leaders have insisted that Congress pass a law protecting some young immigrants along with the funding.
Treasury Secretary Steven Mnuchin warned against Bitcoin becoming the next "Swiss bank account." Speaking to the Economic Club of Washington on Friday, he said wants to ensure "bad people cannot use these currencies to do bad things."
Mark Zuckerberg's change of heart just cost him $2.9 billion. The co-founder of the world's largest social-media business saw his fortune plummet Friday after he posted plans to shift users' news feeds toward content from family and friends at the expense of media outlets and businesses. Facebook shares tumbled 3.9 percent at noon in New York, cutting Zuckerberg's fortune to $74.4 billion on the Bloomberg Billionaires Index.
Honda's new Accord is a $30,000 masterclass in game theory. Not a lot of people buy sedans anymore. But a staggering number of those who do are purchasing the humble Accord. In other auto news, here's what to look for at next week's Detroit Auto Show.
The U.S. Supreme Court will consider freeing state and local governments to collect billions of dollars in sales taxes from online retailers, agreeing to revisit a 26-year-old ruling that effectively established a tax-free zone online. If such taxes were allowed last year, they could have totaled $13 billion, according to a report from the Government Accountability Office.
Blue-state tax games could make the rich even richer. In liberal bastions like metro New York and California, the Trump tax overhaul has been criticized as economic warfare. But as elements of the plan come into focus, tax experts are concluding that some of the most dire predictions for high-tax blue states—particularly surrounding the treatment of state and local taxes—may not pan out as feared.
Skijoring is winter's wildest sport. Yes, skiing while being pulled by a horse or dog is a real thing. It may not an Olympic sport, but with popularity growing and several major competitions just around the corner, now is the time to get into this underrated sport.

Before it's here, it's on the Bloomberg Terminal.
LEARN MORE