Wells Fargo's Earnings Take Yet Another Big Litigation Hit
By
$3.25 billion hit comes after $1 billion third-quarter charge

Lender struggling to cut costs after consumer scandals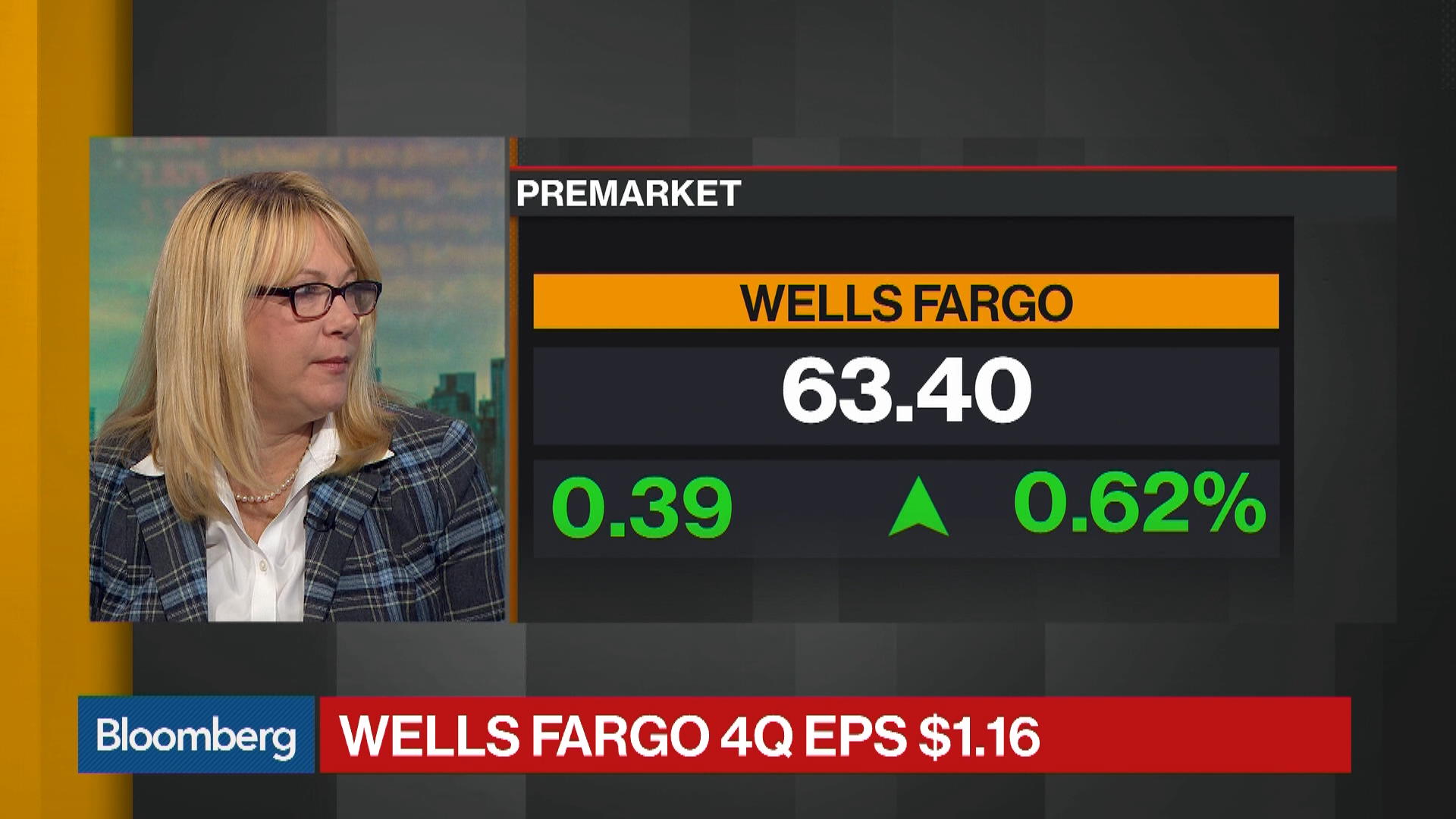 Wells Fargo & Co. had another surprise for investors in the form of its biggest legal charge yet, showing the lender isn't past its consumer-banking scandals.
The $3.25 billion fourth-quarter hit to earnings comes after the bank took a $1 billion charge in the third quarter toward a potential settlement with regulators over pre-crisis mortgage sales. All the litigation costs drove the firm's expense ratio for 2017 to the highest level in more than 20 years.
This latest charge stems from "a variety of matters, including mortgage-related regulatory investigations, sales practices, and other consumer-related matters," the San Francisco-based lender said in a statement Friday.
Wells Fargo has been struggling to cut costs and expects to close 250 of 5,900 branches this year as part of a plan reduce its network to 5,000 by the end of 2020. The company has also started selling units and pledged to slash expenses over the next two years, efforts that analysts expect will help bring its expense ratio back in line with its long-term goal.
Wells Fargo has endured a rash of consumer scandals since regulators fined the bank in September 2016 for opening millions of potentially unauthorized customer accounts. Fresh issues arose last year over insurance forced on auto-loan customers and fees incorrectly assessed to customers looking for mortgage loans. The fake accounts were again a flash point in August, when it revised the number of customers potentially harmed to 3.5 million.
"I'd love to live in a world where I can give you an absolute guarantee and certainly, but it's just not the world we live in," Chief Executive Officer Tim Sloan told analysts Friday in response to questions about whether the firm has rooted out other potential scandals. "I just can't provide you with that absolute guarantee at this moment."
The consumer woes have led to higher costs and a deterioration of the bank's efficiency ratio, a key measure of profitability. Sloan distanced the company from its historical goal of 55 percent to 59 percent in May, setting a new target of 60 percent to 61 percent, excluding litigation costs.
The CEO called Wells Fargo's 62.7 percent reading from the first quarter "completely unacceptable." The ratio was 76.2 percent in the fourth quarter compared to 65.5 percent in the third quarter. Without the litigation charge, the fourth quarter ratio would be 61.5 percent.
"We've got to improve the efficiency of this company," Sloan told analysts on the call. He said the company expects to improve the ratio into the 59 percent range by year-end, with an ultimate goal of returning to between 55 percent and 59 percent.
The lender had positive news on the tax front, as expected. As one of the few large banks with deferred tax liabilities rather than assets, Wells Fargo said it booked a $3.35 billion benefit stemming from changes to tax policy. Its effective tax rate in 2018 will probably be about 19 percent, compared with more than 31 percent in both 2016 and 2015, the bank said.
Wells Fargo's shares were little changed at $62.89 at 12:03 p.m. in New York.
Here's a summary of Wells Fargo's fourth-quarter results:
Net income advanced 17 percent to $6.15 billion, or $1.16 a share, from $5.27 billion, or 96 cents, a year earlier. Analysts called for an adjusted earnings per share of $1.02.
Profit in the community banking division, which houses consumer operations including retail banking, mortgages and auto loans, rose 34 percent to $3.67 billion mostly because of benefits from tax changes.
Mortgage-banking fees declined 35 percent to $928 million from $1.4 billion a year earlier. Residential originations were $53 billion from $59 billion in the previous three-month period. Analysts led by Keefe, Bruyette & Woods's Brian Kleinhanzl had expected $928 million in fees.
Auto-loan originations declined 33 percent from a year ago to $4.3 billion.
Earnings from the wholesale division, which includes the investment and corporate banks, fell to $2.15 billion, compared with $2.19 billion a year earlier.
Loan-loss provisions fell to $651 million, lower than the $737 million analysts predicted. The provision in the third quarter was $717 million and $805 million in the fourth quarter of 2016.
Net interest margin dropped unexpectedly 2 basis points to 2.84 percent. The 16 analysts surveyed by Bloomberg had expected it to increase 1 basis point to 2.87 percent.
Before it's here, it's on the Bloomberg Terminal.
LEARN MORE