U.K. Prepares Contingency Plans for Public Carillion Projects
By
Ministers met on Thursday to discuss situation at company

Carillion has public contracts ranging from rail to hospitals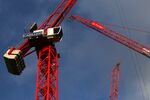 The U.K. government is making contingency plans for the running of Carillion Plc's public projects should the struggling construction company founder, U.K. Prime Minister Theresa May's office said.
"Of course the government will make contingency plans for many different situations," May's spokesman, Max Blain, told reporters in London on Friday. "We are monitoring the situation closely and are in regular contact with the management team there."
Carillion last year issued three profit warnings in six months, causing its shares to plummet more than 90 percent since July 7. The fate of the builder is sensitive for the government because Carillion has contracts with several departments, with projects ranging from hospitals and libraries to roads and the HS2 high-speed rail link.
The Wolverhampton, central England-based company sank 17 percent on Friday to 16.49 pence, valuing the company at just 66 million pounds ($90 million), down from 1.5 billion pounds as recently as August 2015. Carillion had 924 million pounds of long term debt as of June 2017.
The opposition Labour Party criticized May's Conservative administraiton for continuing to award contracts to Carillion even after its problems became apparent.
'Serious Crisis'
"The government, who despite warnings carried on with its program of outsourcing public services to this company, must stand ready to bring these contracts back into public control, stabilize the situation and safeguard our public services," Labour's business spokeswoman, Rebecca Long-Bailey, said in a statement. "The collapse of Carillion could provoke a serious crisis. It would have major implications for the outsourced government contracts the company holds, as well as the firm's thousands of workers, those in the supply chain and those who rely on Carillion's pension fund."
Ministers met Thursday to discuss the issue, and there will be "ongoing meetings," Blain said. The Financial Times reported that the meeting was convened by Cabinet Office Minister David Lidington and included Business Secretary Greg Clark, Transport Minister Jo Johnson and Justice Minister Rory Stewart, as well as ministers from the culture, health, education and communities departments and the Foreign Office.
Last month, Carillion said it received all necessary consents to defer the test date for both its financial covenants from Dec. 31 to April 30, 2018, and that it was continuing constructive talks with stakeholders on options for cutting net debt and recapitalizing. Reuters said Thursday the company is asking creditors to consider a debt extension or roll-over.
"The government remains supportive of Carillion's ongoing discussions with their stakeholders," Blain said.
— With assistance by Anthony Palazzo
Quotes from this Article
Before it's here, it's on the Bloomberg Terminal.
LEARN MORE