politics
Turkish Court Ruling Triggers Tussle Over Post-Coup Arrests
By and
Constitutional Court says arrest of two journalists 'unlawful'

Court in Istanbul refuses to release journalists Altan, Alpay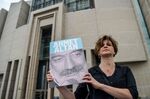 A court in Istanbul refused to allow the release of two journalists, defying an order from Turkey's top judiciary and further exposing fault-lines following the failed coup in 2016.
The Constitutional Court in Ankara ruled on Thursday that the rights of journalists Mehmet Altan and Sahin Alpay had been violated with their "unlawful" arrests more than a year ago. But the state-run Anadolu Agency reported that the Istanbul 13th Criminal Court, which is handling their trials, refused to obey, citing the absence of the full text of the ruling. The document, the Constitutional Court responded on Twitter, was available on its website.
Turkish authorities have fired, jailed or detained more than 150,000 people since the attempted putsch, with thousands of judges and prosecutors among them. The crackdown on democratic institutions has earned a rebuke from German Chancellor Angela Merkel and the European Union, which warned that Turkey was undermining its prospects of joining the bloc.
Bekir Bozdag, a Turkish government spokesman and former justice minister, criticized the Constitutional Court on Twitter, saying its ruling "crossed the line drawn by the constitution and laws." The court "cannot act as if it's a first degree or appeals court" when it rules on individual applications, Bozdag said.
All imprisoned journalists should be released and acquitted after the top court's ruling, Ankara University professor Kerem Altiparmak said on Twitter. If the ruling is not implemented, it would show that the Constitution Court no longer holds ultimate jurisdiction, he said.
The two journalists "should be released and tried without being under arrest," Ersan Sen, a professor of criminal law at Beykent University in Istanbul, said by phone, adding that he expects the lower court to issue a new decision.
Altan and Alpay were charged with "constituting the media force" of an organization led by U.S.-based cleric Fethullah Gulen, who Turkey holds responsible for the coup attempt. The pair worked for newspapers shut down after the coup.
(
Updates with professor's comment in sixth paragraph.
)
Before it's here, it's on the Bloomberg Terminal.
LEARN MORE