Trump's Vulgar Rebuff of Immigration Deal Boosts Shutdown Risk
By , , and
Talks stall with government funding set to expire Jan. 19

Democrats tied deal on immigration to voting for spending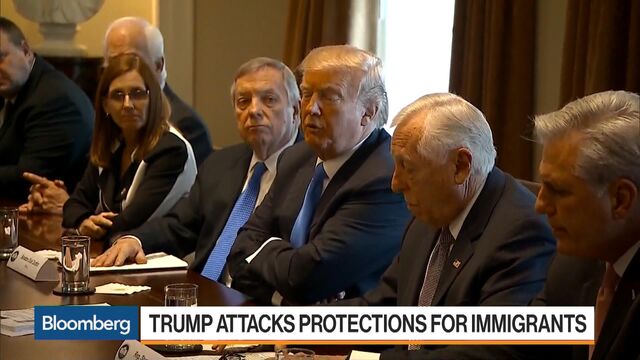 President Donald Trump blew up negotiations on a potential immigration deal, pushing both sides to harden their positions and raising the risks that the standoff could sink talks aimed at averting a government shutdown at the end of next week.
The ill-will was illustrated Friday morning when a senior Democratic senator said the president used "hate-filled, vile and racist" language about immigrants from African nations and Haiti in a meeting with seven lawmakers on Thursday. He essentially called Trump's denial that he used such words a lie.
"My thought that we might get a bipartisan agreement approved by the White House died yesterday," Illinois Senator Dick Durbin told reporters. He denounced the comments again in a later statement, adding that "the clock is ticking" toward a shutdown in seven days.
The chaos on immigration comes a week before the current government spending authorization expires on Jan. 19. Although Republicans hold control of Congress, their thin margin in the Senate means Democratic votes will be needed for any stopgap funding measure as well as for a broader budget agreement. Already, Congress has had to pass three short-term extensions of spending authority to buy time to agree on funding priorities for the fiscal year that began October 1.
Democratic leaders have insisted that Congress must pass a law protecting some young immigrants from deportation along with the funding. After telling lawmakers earlier this week that he's willing to sign whatever compromise on immigration they presented, Trump rejected a plan worked out on Thursday by a bipartisan group of six senators, and savaged the proposal on Twitter Friday as "a big step backwards."
Inflaming Debate
Trump further inflamed the debate by questioning, during a meeting with lawmakers in the Oval Office on Thursday, why the U.S. accepts immigrants from "shithole countries" like Haiti, El Salvador and African nations rather than places like Norway, according to three people briefed on the exchange.
The president said on Twitter Friday that his remarks in the meeting were "tough, but this was not the language used. What was really tough was the outlandish proposal made -- a big setback for DACA!"
DACA Central
DACA is the Obama-era Deferred Action for Childhood Arrivals program that Democrats and many Republicans want to enshrine into law. It's central to the plan put forth by the group of senators that also would provide money for border security, end a visa lottery system, and limit family-based migration for DACA recipients. Trump has announced it would end March 5 if Congress doesn't act.
Durbin, the only Democrat at Thursday's White House meeting, said Trump used the derogatory language and did so repeatedly.
"I cannot believe that in the history of the White House, in that Oval Office, any president has ever spoken the words that I personally heard our president speak yesterday," Durbin said at a televised news conference. "To no surprise, the president started tweeting this morning denying that he used those words. It is not true. He said those hateful things and he said them repeatedly."
Durbin said that Republican Senator Lindsey Graham, part of the bipartisan Senate group, "spoke up" and directly addressed what the president said. "I was very proud of him. It took courage for what he did," Durbin said.
Graham's Account
Graham of South Carolina released a statement that didn't explicitly confirm what Trump said, but it didn't contradict Durbin's version of events.
"Following comments by the president, I said my piece directly to him yesterday," Graham said. "The president and all those attending the meeting know what I said and how I feel. I've always believed that America is an idea, not defined by its people but by its ideals."
Republican Senators Tom Cotton of Arkansas and David Perdue of Georgia -- who attended Thursday's meeting -- didn't specifically deny Trump made the remarks but said in a joint statement Friday, "We do not recall the president saying these comments specifically but what he did call out was the imbalance in our current immigration system."
Trump, who signed a proclamation honoring civil rights leader Martin Luther King Jr. at a White House ceremony Friday, ignored shouted questions from reporters about the remarks.
House Speaker Paul Ryan said at a luncheon Friday at the University of Wisconsin-Milwaukee that he was aware of the president's comments.
"The first thing that came to my mind was very unfortunate, unhelpful," Ryan said and made a reference to experiences in his Wisconsin hometown.
Arizona Republican Senator Jeff Flake, who wasn't in the meeting but was part of the Senate group working on a compromise, said on Twitter Friday that "The words used by the president, as related to me directly following the meeting by those in attendance, were not 'tough,' they were abhorrent and repulsive."
The chairman of the Congressional Black Caucus, Democratic Representative Cedric Richmond of Louisiana, said the president's statement "reinforces the concerns that we hear every day, that the president's slogan Make America Great Again is really code for Make America White Again."
Richmond and Representative Jerrold Nadler of New York, the ranking Democrat on the Judiciary Committee, said Friday that they will introduce a House censure resolution condemning Trump's comments next week. However it's unlikely that Ryan and other Republican leaders who control the agenda would let it advance to a vote.
Short Week
The blow-up over immigration creates a complicated mix for lawmakers, who have only four days of work next week due to Monday's Martin Luther King holiday. A Senate Democratic leadership aide said that Democrats gave significant ground in the proposal presented to Trump, and that it's up to the president to take the next step to bring both sides together before Friday's shutdown deadline.
A Senate Republican leadership aide said GOP leaders have been clear that the spending fight and an immigration bill should be entirely separate, and expressed confidence that both parties will ultimately agree to keep the government running.
With the deadline a week away, the Office of Management and Budget scheduled a call with federal agencies on Friday to go over procedures in the event of a shutdown, as is routine in the circumstances, spokesman Meghan Burris said.
Trump's rejection of the immigration proposal presented by Durbin and Graham emboldened immigration hardliners among Republicans in Congress.
Cotton said Thursday that, like Trump, he wants family-based immigration available to DACA recipients to be limited to spouses and minor children. Other family members, including siblings, parents and adult children, would be excluded. He also said he wants to eliminate the visa lottery program, which is intended to promote diversity among those coming to the U.S.
"The diversity lottery is a joke," Cotton said Thursday. "It serves no humanitarian or economic purpose whatsoever. It should just be ended."
Iowa Republican Representative Steve King, one of the most vocal anti-immigration members of Congress, cheered Trump on.
'Criminal Aliens'
"Hang in there Mr. President @realDonaldTrump. If those countries aren't as you described, Democrats should be happy to deport criminal aliens back to them. &End #AnchorBabies, too," he wrote on Twitter on Friday.
The compromise immigration plan fell flat with many other Republicans on Capitol Hill. One senior congressional aide said the six senators' proposal probably couldn't pass in either chamber, adding that the main negotiations will now shift to a broader group that includes the No. 2 leaders from both parties in the House and Senate, as well as representatives from the White House.
Graham, once a top critic of Trump, has become closer to the president in recent months -- playing rounds of golf at Trump's clubs, and delivering public praise of him. Durbin, the No. 2 Democrat, offered for the first time a chief concession from his party: some money for Trump's U.S.-Mexico border wall, which Democrats had until now refused to fund.
Wall Funding
The six senators led by Graham and Durbin proposed providing $2.8 billion for border security, including $1.6 billion for a wall or fence, technical surveillance and agent training, and $1.2 billion for other border priorities. Immigration slots under a visa lottery program would be used instead for people in the U.S. who've lost their temporary protected status because of recent actions by the administration, or for people from low-immigration countries. 
Trump has been an erratic negotiator, sending mixed signals throughout his presidency on how he would help the young immigrants known as "dreamers," who were brought to the U.S. by their parents, and what kind of border wall he is demanding.
At a White House meeting on Jan. 9, Trump seemed to agree with Democratic Senator Dianne Feinstein of California to support passage of a "clean" bill aiding the young immigrants, only to be reminded by House Majority Leader Kevin McCarthy, a California Republican, that his demands go much further.
For more on Trump's travel ban, check out the Decrypted podcast:
— With assistance by Anna Edgerton, Steven T. Dennis, Nick Wadhams, Jennifer Epstein, and Billy House
Before it's here, it's on the Bloomberg Terminal.
LEARN MORE