politics
Trump Lawyers to Continue Talks With Mueller on Interview
By
Discussions on logistics continue, person briefed says

President said 'it's unlikely you'd even have an interview'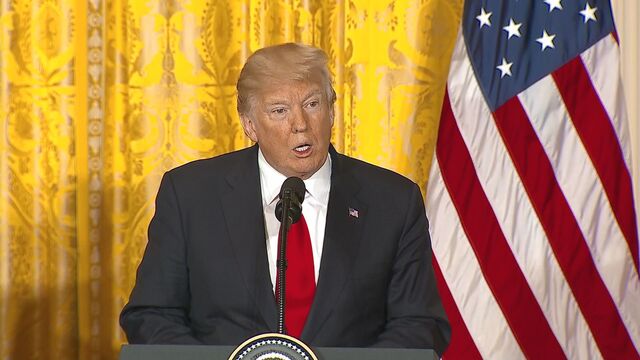 Lawyers for President Donald Trump are expected to continue talks next week with Special Counsel Robert Mueller and his team about an interview with the president, despite comments from Trump suggesting an interview is unlikely.
The lawyers may speak by phone with Mueller's team as early as next Tuesday and are continuing an exchange over logistics, said a person briefed on the situation. Working out those details could take several weeks and a series of additional phone calls, the person said.
Trump lawyer John Dowd declined to comment on his communications with the special counsel's office.
Mueller, who's investigating Russia meddling in the 2016 presidential campaign and whether anyone close to Trump colluded in it, has also indicated he would like to call back several White House staffers who were interviewed early on to ask about additional information he has received, the person said. The interviews are expected to be brief and don't necessarily indicate significant changes in the investigation, according to the person.
Among those who have been interviewed by Mueller's team are Trump's son-in-law Jared Kushner, White House Counsel Don McGahn, former Chief of Staff Reince Priebus, former spokesman Sean Spicer and National Security Council chief of staff Keith Kellogg, according to people familiar with the investigation.
Trump declined to say Wednesday whether he would agree to a possible interview request from Mueller and suggested one may not occur. "I'll speak with attorneys," Trump said in a response to a question, adding, "It seems unlikely you'd even have an interview."
White House Press Secretary Sarah Huckabee Sanders said Thursday that Trump's lawyers are continuing to cooperate with the investigation and continue to be in contact with Mueller.
Before it's here, it's on the Bloomberg Terminal.
LEARN MORE