technology
Traders Don't Think Facebook's Shift Will Benefit Twitter, Snap
By
Ad dollars won't shift to smaller platforms, traders say

Facebook may just end up charging more for its ad space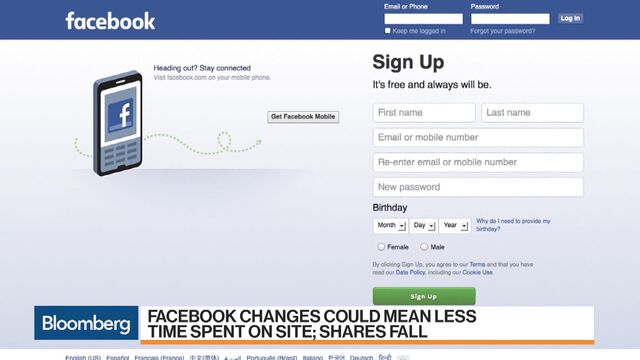 Twitter and Snap aren't likely to gain significant advertising dollars from Facebook's decision to de-emphasize business content in favor of posts from family and friends, according to seven of eight traders and money managers surveyed by Bloomberg.
Some said Facebook may not even lose much advertising revenue in the long run, as the site could charge more for the reduced number of ads it will carry. Another common take among those surveyed was that Facebook could increase the advertising load on Instagram, which they said is currently under-monetized relative to the core platform.
One portfolio manager agreed with Bloomberg Intelligence analyst Jitendra Waral, who said that the steps Facebook is taking could change the advertising landscape. Facebook's strategy is "great to gate the long-term decline in user engagement," he said in an email. However, in the near term, publishers relying on Facebook for content distribution "are most at risk so they may seek alternatives like Snap, Twitter and LinkedIn," he added.
Facebook dropped 4.2 percent to 179.96 as of 11:42 a.m. in New York, heading for its biggest one-day loss since September amid concern about the strategy change. Snap fell 4.1 percent to $14. Twitter added 4 percent, the most in almost two months, to $25.36 after BTIG analyst Richard Greenfield raised his price target to $30 from $25 and said that he sees the company being acquired.
Bloomberg LP produces TicToc, a global breaking news for the Twitter service.
Before it's here, it's on the Bloomberg Terminal.
LEARN MORE