Penthouse Magazine Publisher Files Bankruptcy a Third Time
By
Adult entertainment empire was restructured in 2003 and 2013

Current owner Kelly Holland had aimed to grow licensing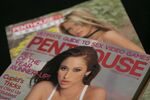 Penthouse Global Media Inc., an offshoot of the iconic adult entertainment brand that began with Bob Guccione's Penthouse Magazine in 1965, is taking the business on a third trip through bankruptcy. 
A Chapter 11 filing in California court Thursday kicks off another restructuring for the empire that grew out of a U.K. men's magazine born in the counterculture of the 1960s. The brand's current, Los Angeles-based owner is run by Kelly Holland, a woman and self-described political progressive, who bought the name in 2016, saying she wanted to remove any misogynistic content and expand licensing. In an L.A. Times interview, she described potential plans, including "breastaurants" to compete with Hooters Inc.
The filing includes publishing, licensing, broadcasting and digital affiliates. Two prior bankruptcies showed how technological disruption in the media industry has ensnared but never snuffed out the brand. This filing comes amid a wave of concern about sexual harassment in the media and entertainment industry that has bedeviled companies including Facebook Inc., Twitter Inc. and Weinstein Co.
Before Holland's purchase, the company had been owned by FriendFinder Networks Inc., which put it through a 2013 bankruptcy as the company was squeezed by free online competition for another of its main businesses, putting people in touch for hookups. At the time, Craigslist and mobile apps were bemoaned as competition. The brand also took a tour through the courts in 2003, when General Media Inc. cited competition from retail video outlets and cable television.
The company falsified accounting records and made misleading statements to hide significant financial losses in 2016 and 2017, according to a lawsuit filed this week in California Superior Court. The plaintiff in the suit, Dream Media Corp., says the media company has defaulted on loans to ExWorks Capital Fund. The plaintiff acquired the loans, and said Penthouse Global Media owes it $10.3 million. Holland and a lawyer for the company didn't return calls and emails for comment.
Penthouse Global Media describes its legacy as one of "intelligent journalism, exquisite nude pictorials and celebrity profiles," citing on its website the appearance of Madonna, Aerosmith and Jake Gyllenhaal in its pages.
The case is 18-10098, Penthouse Global Media Inc., Central District of California (San Fernando Valley)
Before it's here, it's on the Bloomberg Terminal.
LEARN MORE