Five Things You Need to Know to Start Your Day
Get caught up on what's moving markets.
By and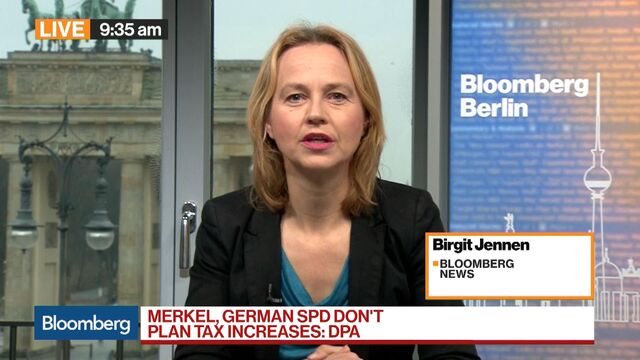 Want to receive this post in your inbox every morning? Sign up here.
Inflation reality check due, commodities on a tear and Merkel makes progress toward a fourth term. Here are some of the things people in markets are talking about today.
Price projection
U.S. may confirm the lowflation-spurred rally boasts strong foundations. Headline inflation growth is expected to have eased to an annual pace of 2.1 percent, with the core rate staying steady at 1.7 percent. The release comes after wholesale prices incurred their first drop in more than a year in December, down 0.1 percent on the month. Still, outgoing New York Federal Reserve President William Dudley said expansionary fiscal policy and loose financial conditions raise the risk of economic overheating, dubbing three interest-rate increases in 2018 as a good projection.
Brent bulls
Oil traded near a 2 ½ year high of $70 a barrel in London, driven by production cuts, rising demand and falling U.S. inventories. The rally is adding fresh legs to the melt-up in U.S. stocks, which rose to new records at the close. The U.S. energy industry is expected to post earnings-per-share growth for the fourth quarter at a whopping 126 percent, according to Bloomberg Intelligence. Underscoring the health of global aggregate demand late in the business cycle: China continues to devour the world's commodity output from crude oil to soybeans while export growth is on a tear.
Merkel progress
Chancellor Angela Merkel reached a preliminary accord with Germany's Social Democrats to clinch a coalition government, advancing her bid to end political gridlock and open the door to her fourth term. The deal includes efforts to strengthen the European Union and control the flow of refugees. That news sent the euro to a three-year high, adding to gains after a shift in European Central Bank messaging was dubbed hawkish.
Equities mixed
Overnight, the MSCI Asia Pacific Index gained 0.3 percent, while Japan's Topix index closed 0.6 percent lower. In Europe, the Stoxx 600 Index rose 0.2 percent at 5:55 a.m. Eastern Time following news the ECB is taking note of a strengthening economy and is mulling policy guidance. S&P 500 futures added 0.2 percent, the yield on the 10-year Treasury was at 2.546 percent, and gold was higher.
Crypto chills
Bitcoin bulls are learning that with great price appreciation comes great attention from regulators. The biggest cryptocurrency is down roughly 20 percent this week as authorities around the world show they're prepared for active intervention in how digital currencies are produced and traded. South Korea's justice minister has been calling for a ban on local crypto exchanges, while Chinese officials have ordered some mining facilities to close. Beijing's move has Chinese-listed companies with loose ties to bitcoin downplaying their connection to cryptocurrencies and blockchain technology for fear of running afoul of the authorities. In Moscow, meanwhile, the divide over digital currencies runs deep. Officials are using "the power of words and thoughts" to push Bank of Russia Governor Elvira Nabiullina to green-light trading of cryptocurrencies on official exchanges -- a tricky task as she's previously called them "pyramid schemes."
What we've been reading
This is what's caught our eye over the last 24 hours.
Before it's here, it's on the Bloomberg Terminal.
LEARN MORE