Politics
Devin Nunes Rises Again, Wielding the Trump Dossier Against Democrats
The chairman of the House Intelligence Committee, embarrassed by his late-night trip to the White House, is back at it, pushing a case that the FBI wrongly used the dossier to win surveillance warrants of Trump associates.
By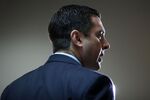 Republican Representative Devin Nunes's days as a power broker seemed to be over last spring. After an ill-advised maneuver where he secretly received intelligence reports from a White House aide, then returned to the White House to brief President Trump on his discovery, Nunes, chairman of the House Intelligence Committee, was forced to step back from leading the committee's high-profile probe of Russian election interference.
But Nunes never stopped investigating, he just changed targets. He's used his subpoena power to scrutinize the origins of the FBI's investigation into Trump and the conduct of the FBI and U.S. Department of Justice in their probe of Hillary Clinton, and he's become central to GOP efforts to raise doubts about the Trump-Russia probe. Nunes, who served on Trump's presidential transition team, doesn't hide his intent to show Trump-Russia collusion claims have no merit. "You should stop chasing Russian ghosts. You're missing the big story," he likes to tell reporters.
Nunes's stumble came in March, when he took a late-night trip to the White House, where he was given information that U.S. intelligence had "incidentally collected" information about Trump associates during surveillance of foreign nationals. The next day, Nunes held a press conference about the information and returned to brief Trump on it. That led Democrats and watchdog groups to call on him to recuse himself from the probe, with some alleging he'd mishandled classified information.
On April 6, Nunes said he would step back temporarily—he didn't use the word "recuse"—while the House Committee on Ethics evaluated his actions. Within weeks, he was again actively involved in the investigation. On Dec. 7 the Ethics Committee ended its inquiry, agreeing there was no reason to take action against him.
Nunes has paid particular attention to the so-called Trump dossier, which contains unverified information about suspicious links between Trump and Russia, and to its author, former British spy Christopher Steele. In August, Nunes demanded from the Justice Department and FBI "any and all documents" related to their dealings with Steele and the dossier. He also began a battle to get the bank records of Fusion GPS, the investigative firm that assembled the dossier. By October, that led Perkins Coie, the law firm that represented Clinton and the Democratic National Committee, to confirm that it hired Fusion in April 2016 to compile information on Trump's ties to Russia.
The saga took another turn on Jan. 9, when Senator Dianne Feinstein, the top Democrat on the U.S. Senate Judiciary Committee, released a transcript of its interview with Fusion GPS co-founder Glenn Simpson. Her goal was to refute GOP claims that the FBI treated the dossier as verified intelligence and used it to justify investigating the Trump-Russia connection. Nunes had announced on Dec. 2 a potential contempt of Congress case against Deputy Attorney General Rod Rosenstein and FBI Director Christopher Wray for allegedly failing to produce material related to the probes. Rosenstein and Wray appealed to House Speaker Paul Ryan to block Nunes's request, but Ryan sided with Nunes. On Jan. 3, Rosenstein and Wray agreed to provide access to the material.
Nunes's actions have shredded any remaining comity on a panel once known as a bastion of bipartisanship—"It is regrettable," says ranking Democrat Adam Schiff—and all but ensured that it won't be able to produce a unanimous final report. Instead, Republicans are expected to reject the notion of any collusion, with Democrats saying more time and resources are required.
The upshot for Republicans is Nunes's improved standing in the party. "He's been a tremendous leader," says Representative Mark Meadows of North Carolina, chairman of the conservative House Freedom Caucus. "Sure, he's taken his lumps. But he's come out better for it."
BOTTOM LINE -
Nunes has used his position as chairman of the House Intelligence Committee to raise questions about government investigations into Trump-Russia ties.
Before it's here, it's on the Bloomberg Terminal.
LEARN MORE