Booming Global Trade Helped China Exports Surge Last Year
Bloomberg News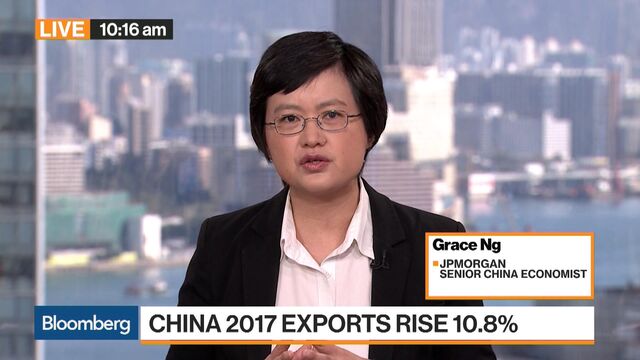 China's exports rose in December, capping a year of stronger trade growth buoyed by a robust global economy.
Key Points
Exports rose 10.9 percent in dollar terms in December, the customs administration said Friday
That compares with a forecast of 10.8 percent in a Bloomberg survey
Import growth slowed to 4.5 percent, leaving a trade surplus of $54.69 billion
Full year data for 2017 show exports rose 10.8 percent in yuan terms while imports surged 18.7 percent. The 2017 trade surplus stood at 2.87 trillion yuan ($442.3 billion)
China's trade surplus with the U.S. rose 13 percent in 2017
Big Picture
Demand for Chinese products is holding up as growth in major trade partners remains intact, and a feared trade war between China and the U.S. has yet to materialize. An imports boom is being driven by the economy's unexpectedly robust expansion in 2017, with the nation's gross domestic product expanding by about 6.9 percent last year, the official Xinhua News Agency cited Premier Li Keqiang as saying this week.

Economist Takeaways
"The overall global environment will continue to be very supportive in terms of global demand for a second consecutive year, and that's going to support China's exports sector," Grace Ng, a China economist at JPMorgan Chase & Co. in Hong Kong, said in a Bloomberg Television interview. While growth will be stable, there will be "ongoing efforts at supply-side reform and overcapacity reduction as well as some tightening measures on environmental issues. That will continue to restrain some parts of the industrial sector."
"Export growth will likely drop as the rapid appreciation in the yuan last year will start to hurt outbound shipments after a lag, and amid trade frictions between China and the U.S.," said Zhao Yang, chief China economist at Nomura Holdings Inc. in Hong Kong. "Import growth will slow too as China's economic expansion slows amid weaker investment in manufacturing and property."
"China's exports may continue to benefit from global recovery this year," said Ding Shuang, chief economist for Greater China and North Asia at Standard Chartered Plc in Hong Kong. "A major uncertainty is potential China-U.S. trade frictions."
"Import growth outpaced that of exports significantly for the whole year of 2017, indicating that China's growth profile has been experiencing a transition as domestic demand has been picking up," said Zhou Hao, a senior emerging markets economist at Commerzbank AG in Singapore. "China is on its way to re-balancing its growth model and it makes sense to accelerate the deleveraging process as growth looks fine over the foreseeable future."
What Our Economists Say...
"A sharp drop in import growth and more moderate slowdown in exports flagged risks to China's growth headed into 2018," Bloomberg economists Tom Orlik and Fielding Chen wrote in a report. "Close-to-zero import growth in yuan terms raises the prospect of a weakening domestic-demand engine."
The Details
China surpassed the U.S. as the largest importer of oil last year as new refining capacity and independent buyers boosted demand
China's 2017 soybean imports rose 13.9 percent to an annual record
Exports to North Korea fell 23.4 percent in December in the latest sign Beijing is working to comply with United Nations sanctions
A better-than-expected global recovery supported trade last year while commodity prices helped bolster imports, customs administration spokesman Huang Songping said at a briefing in Beijing on Friday
— With assistance by Kevin Hamlin, Tian Chen, Yinan Zhao, and Miao Han
Before it's here, it's on the Bloomberg Terminal.
LEARN MORE