Zuma to Host Kenyatta for State Visit, Kenyan Presidency Says
By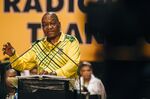 President Jacob Zuma will host Kenyan leader Uhuru Kenyatta for a State visit later this year, the Kenyan Presidency said in a statement after the two men held talks Thursday in the South African port city of Durban.
"We have laid the groundwork for my State visit sometime in the first quarter of this year," Kenyatta said, according to a statement posted on the Kenyan Presidency's website. "We look forward to concluding and signing various agreements."
During their meeting, the leaders discussed topics including trade, the South Sudan conflict and evidence of slave trading in Libya, according to the statement. Kenyatta will attend the 106th birthday celebrations of South Africa's ruling African National Congress in the southern city of East London this weekend.
To read more on whether Zuma will remain in office, click here
Before it's here, it's on the Bloomberg Terminal.
LEARN MORE