YouTube Backs Away From Video Star Who Posted Dead-Body Clip
By
Logan Paul is banished from preferred advertising program

Video-sharing site also drops him from upcoming original show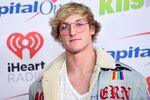 YouTube took steps to distance itself from Logan Paul, the 22-year-old online video star who posted a clip of a dead body hanging from a tree in Japan, eliciting scorn from fans and fellow creators.
Paul's channels will no longer be part of a preferred advertising program, and he will be cut from the upcoming season of the original series "Foursome," the company said Wednesday in a statement. YouTube, part of Alphabet Inc.'s Google, also suspended plans for other projects with Paul, though he can still post videos and collect ad revenue.
YouTube, the world's largest video site, has struggled to root out inappropriate material, a growing concern among advertisers who spend billions of dollars a year with the company. Several marketers have stopped spending money on the site out of concern the company can't ensure ads won't run alongside hate speech or sexually explicit material.
YouTube has attracted billions of users with user-posted videos that cost a fraction of a typical TV show. Yet many of those creators stray from what the company views as appropriate, and YouTube relies heavily on artificial intelligence to police the millions of hours of video that suppliers upload.
Alphabet shares were little changed at $1,108 as of 9:53 a.m. in New York trading.
The punishment for Paul is similar to that meted out to Felix Kjellberg, the Swedish YouTube phenom known as PewDiePie. He still operates the channel with the most subscribers on YouTube, despite running afoul of advertisers over anti-Semitic remarks.
Paul's Apology
Paul, who has more than 15 million subscribers, took down the video after the backlash and posted an apology that was seen more than 39 million times. But that didn't quiet critics, who said the clip was inappropriate and insensitive to people with psychiatric problems. The dead body was hanging in a forest that has been a popular destination for suicide.
YouTube relies on users to flag videos that violate community guidelines, and also employs machine learning to identify some offensive videos. The company has pledged to hire 10,000 additional employees to help combat the spread of inappropriate videos.
Before it's here, it's on the Bloomberg Terminal.
LEARN MORE