Trump Won't Say Whether He Spoke With North Korea's Kim Jong Un
By
'I don't want to comment on it,' he tells Wall Street Journal

Says he 'probably' has 'a very good relationship' with Kim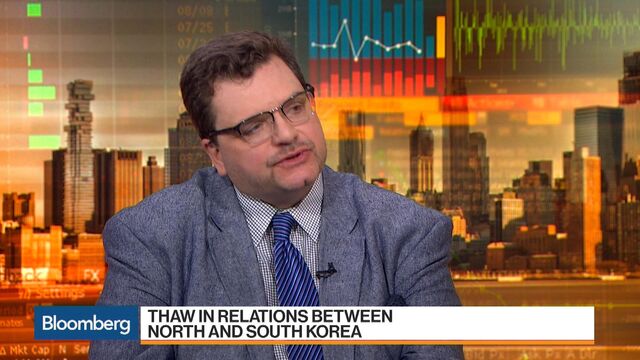 President Donald Trump refused to say whether he has spoken directly with North Korean leader Kim Jong Un in an interview on Thursday, but said he "probably" has "a very good relationship" with the dictator.
"I don't want to comment on it," Trump told the Wall Street Journal after he was asked directly if he had spoken with Kim. "I'm not saying I have or haven't. I just don't want to comment."
"I have relationships with people," Trump continued. "I think you people are surprised."
Direct talks between the U.S. president and Kim would be unprecedented. No conversation has been publicly reported between any sitting U.S. president and a North Korean leader in decades, if ever.
Trump's relationship with Kim has been primarily distinguished by escalating barbs and insults. North Korea's aggressive pursuit of a ballistic missile capable of hitting the U.S. with a nuclear warhead has emerged as the president's most fraught foreign crisis.
Trump has mocked Kim's weight and called him "little rocket man" in a speech to the United Nations General Assembly. He quipped on social media last week that the "nuclear button" on his desk was larger than that of the North Korean leader. Kim has dismissed Trump as a "dotard" and "frightened dog" in public statements.

Despite the name-calling, there is recent evidence of a thaw between the two adversaries. On Wednesday, Trump said he didn't expect a war in a White House news conference, and indicated he was pleased by direct talks between Pyongyang and Seoul. Relations between the two Koreas have warmed ahead of next month's Winter Olympics to be held in the South Korean city of Pyeongchang.
"A lot of good talks are going on now. A lot of good energy," Trump said at the news conference. "Hopefully, a lot of good things are going to work out."
White House spokespeople didn't immediately respond to questions about whether Trump and Kim had spoken.
Trump spoke Wednesday with South Korean President Moon Jae-in, and the Blue House readout of the call said the U.S. president promised he wouldn't attack North Korea while the two Asian nations hold talks. Trump also again indicated he's open to direct U.S. talks with North Korea under the right circumstances.

Trump has said North Korea won't be allowed to develop a nuclear missile capable of striking the U.S., and has threatened war if economic sanctions and negotiations can't avert Kim's ambitions for such a weapon.
Kim has vowed never to give up his country's nuclear weapons, regarding them as his last line of defense against a U.S. invasion. Technically, South Korea and the U.S. remain at war with North Korea after the Korean War ended in 1953 with an armistice instead of a peace treaty.
— With assistance by Kanga Kong
Before it's here, it's on the Bloomberg Terminal.
LEARN MORE