politics
House Backs Warrantless-Spying Bill After Confusion Over Trump Tweets
By , , and
President says FISA may have been used to monitor his campaign

'Get Smart!' president says in second tweet backing FISA bill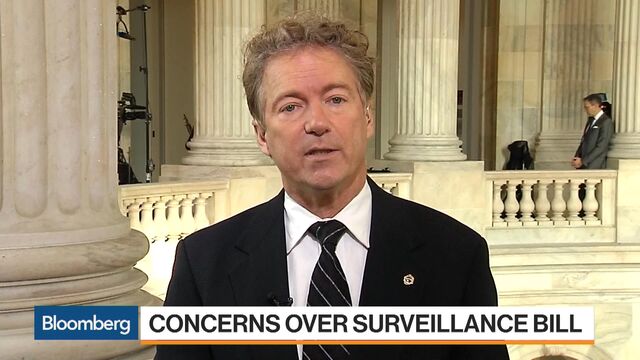 The House voted Thursday to extend the government's authority to spy on foreigners' digital communications, hours after President Donald Trump sowed confusion over the bill by sending a tweet that resurrected his prior claims that his campaign team had been spied upon.
The measure, passed 256-164, would extend Section 702 of the Foreign Intelligence Surveillance Act through 2023. The program allows the National Security Agency to intercept calls or emails from suspected foreign terrorists outside the U.S.
It was unclear whether Trump impulsively intended to try to derail the bill, which is supported by his administration and congressional allies. Soon after, he posted another tweet endorsing passage. Between the two tweets, he phoned House Speaker Paul Ryan to talk about the FISA bill, according to a Republican aide who spoke on condition of anonymity.
Second-ranking Senate Republican John Cornyn of Texas said he hopes his chamber will pass the bill next week. Similar to the situation in the House, though, the measure faces opposition from senators of both parties who seek stricter privacy protections for information about Americans swept up by the surveillance. Senate Democrat Ron Wyden of Oregon and Republican Rand Paul of Kentucky threatened filibusters on Twitter shortly after the House vote.
The Trump administration and the intelligence community want to preserve the program as-is.
Against this background, came Trump's tweets.
Initially on Thursday, after similar sentiments were voiced by a commentator on "Fox and Friends," the president's favorite cable morning show, Trump wrote: "'House votes on controversial FISA ACT today.' This is the act that may have been used, with the help of the discredited and phony Dossier, to so badly surveil and abuse the Trump Campaign by the previous administration and others?"
'Get Smart!'
But later, Trump seemed to reverse course: "With that being said, I have personally directed the fix to the unmasking process since taking office and today's vote is about foreign surveillance of foreign bad guys on foreign land. We need it! Get smart!"
Trump's second tweet referred to claims by some congressional Republicans that Obama administration officials may have improperly "unmasked" the names of Americans -- perhaps including some of Trump's own associates -- whose conversations or names were incidentally picked up in foreign surveillance.
The reauthorization bill, S. 139, isn't directly related to the unmasking issue. Rather, the vote is to extend a law first adopted in 2008 to legalize what had until then been secret wiretapping without court warrants during the administration of former President George W. Bush. The current version of the law expires after Jan. 19.
The bill was supported by 191 Republicans and 65 Democrats, with 45 Republicans and 119 Democrats voting against it.
House Minority Leader Nancy Pelosi of California, who backed the FISA bill, thanked Ryan on the House floor for removing unmasking provisions from the measure.
'Tell the President'

"By the way, somebody should tell the president. He thinks it is in the bill," she said, referring to Trump's initial tweet.
Ryan said at a news conference later Thursday that he speaks with Trump almost daily. He said the president has concerns about domestic provisions of the FISA law, which weren't involved in the bill passed Thursday. "He knows that and I think he put out something that clarifies that," Ryan said.
Later, Director of National Intelligence Dan Coats' office said he issued guidance allowing "unmasking" the identities of U.S. citizens caught up in foreign surveillance only if authorized by intelligence agency heads or someone designated by them. Requests relating to presidential transition team members will require approval of an intelligence agency's general counsel.
In a Wednesday statement, White House Press Secretary Sarah Sanders said the administration urged the House to pass the surveillance legislation without amendments introduced by critics.
The bill includes a requirement that the Federal Bureau of Investigation -- in most potential criminal cases "unrelated to national security" -- seek a court order before viewing information about Americans' communications in the program database. But there are exceptions -- too many, say opponents.
The FBI doesn't have to apply for a warrant when national security is involved, or in cases where it believes there is a "threat to life or serious bodily harm."
Amash Amendment

House Intelligence Chairman Devin Nunes of California and top panel Democrat Adam Schiff, also of California, both supported the bill, a product in part of bipartisan work that took place amid their divisive battles in the committee's probe over Russian interference in the 2016 presidential campaign.
For more on Trump's tweets, check out the Decrypted podcast:
Before passing the bill, the House rejected an amendment sponsored by Michigan Republican Justin Amash and California Democrat Zoe Lofgren that would have required the FBI to obtain court warrants before querying the Section 702 program's database of the emails, internet searches and other communications of people in the U.S. that are incidentally collected as part of surveillance targeting suspected terrorists overseas.
Trump's own cybersecurity chief vouched for the law Thursday at an FBI cybersecurity conference in New York.
"There's been no cases of 702 used improperly for political purposes," White House Cybersecurity Coordinator Rob Joyce said.
Obama administration officials have described the requests to unmask some Americans' identities as routine efforts to understand the travel and actions of foreign officials. Trump allies have argued the unmasking incidents validate the president's unsubstantiated claim that Obama wiretapped Trump Tower during the presidential transition.
— With assistance by Chris Strohm, Justin Sink, James Rowley, Anna Edgerton, Terrence Dopp, Laura Litvan, and Steven T. Dennis
Before it's here, it's on the Bloomberg Terminal.
LEARN MORE