politics
Treasury Watchdog Finds No Political Influence on Tax Analysis
By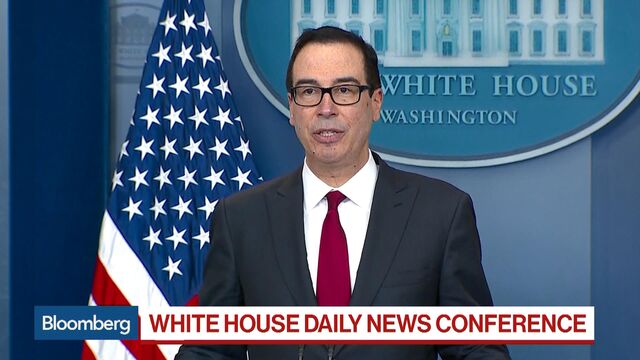 The Treasury Department's internal watchdog said there was no evidence of political interference with an analysis of the Republican tax plan last year.
"I do not see a basis to conclude that the process employed by Treasury this past year was contrary to law, an abuse of authority or otherwise improper," Rich Delmar, counsel to inspector general Eric Thorson, said in a memo obtained by Bloomberg News. "It is unclear whether the Department's involvement in the tax legislating process in 2017 has been any more or less 'political' than it has been in past years."
The inquiry was prompted by a media report in November that Treasury hadn't completed analysis of the proposed legislation that Treasury Secretary Steven Mnuchin had promised. Senator Elizabeth Warren, a Democrat, asked Thorson's office to review whether Treasury resources had been used to research the tax plan, and why no analysis had been released to the public or Congress. 
Senator Ron Wyden, the top Democrat on the Senate Finance Committee, asked the inspector general to also look into whether a tax research paper from 2012 that had been removed from Treasury's website because it did not support the Republican tax plan.
Treasury did release a one-page document last month that said the combined impact of President Donald Trump's agenda -- including a regulatory rollback -- and tax cuts would drive enough growth to increase tax revenue by $300 billion over the next decade. Economists called the document a political statement, not a rigorous economic study.
Economists Call Treasury's 1-Page Tax Study 'Political Document'
The inspector general's report, based on interviews with Treasury tax expert James Mackie, says the Office of Tax Analysis didn't release its report because it appeared that Congress was "less interested" in getting the agency's input. The findings were reported earlier by the New York Times.
The internal inquiry is the third that Mnuchin's Treasury Department has faced since he was sworn in less than a year ago. Thorson's office has reviewed Mnuchin's use of government planes, as well as a private-jet trip to Palm Beach that a top aide took with a hedge fund founder. The inspector general didn't find wrongdoing in either case, but cautioned officials to use more rigor in ethics considerations.
Before it's here, it's on the Bloomberg Terminal.
LEARN MORE