Regulator Scrutinizes Wild Stock Swings in South Africa
By , , and
Speculation about next Viceroy target spurring panic: Shapiro

Some property stocks plunged by records before paring losses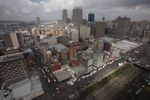 South African regulators are scrutinizing trades prompted by speculation that Viceroy Research will release a negative report about one of the country's stocks, which caused some shares to crash more than 20 percent.
The Financial Services Board is working with the Johannesburg Stock Exchange to review trading activity and determine whether a formal probe is warranted, Tembisa Marele, a spokeswoman for the Pretoria-based FSB said in an emailed response to questions. The FSB's mandate includes probing insider trading, price manipulation and false reporting.
Shares of some of the country's largest real estate investment trusts fell by a record on Thursday as talk swirled that one of them will be targeted in Viceroy's next research report. Aspen Pharmacare Holdings Ltd., Africa's biggest drugmaker, plunged on Jan. 9 amid rumors it is in Viceroy's sights. The stock has since recovered all those losses after Aspen Chief Executive Officer Stephen Saad came out in defense of his company, saying its earnings are transparent.
Very little is known about Viceroy, which refers to itself as a U.S.-based short-seller, or the people behind it, who describe themselves on their website as "a group of individuals who see the world differently." Viceroy gained attention in South Africa after releasing a report detailing some of Steinhoff International Holdings NV's woes shortly after the retailer said it was investigating accounting irregularities that caused most of its value to be wiped out.
Advise Caution
"Viceroy encourages people not to speculate on the identity of any companies we are researching and we advise caution in trading on gossip," the company said in a statement, issued from a Gmail account. "Viceroy complies with the laws and does not release research or discuss our focus prior to publication."
The JSE is reviewing the trading activity in Aspen and the property stocks because of "the material price movements in recent days that appear to be unrelated to any information disseminated by the relevant companies," Shaun Davies, the bourse's director of market regulation, said in an emailed response to questions. "Any form of market abuse that is identified will be appropriately dealt with."
The 21-member FTSE/JSE Africa Listed Property Index plunged the most since December 2015 before paring losses to trade 2.1 percent down by 2 p.m. in Johannesburg on Thursday. Resilient REIT Ltd. plummeted by record 22 percent before trading 3.3 percent lower. Greenbay Properties Ltd., Fortress REIT Ltd.-B and Nepi Rockcastle Plc all recovered from declines of as much as 20 percent.
"Nobody knows who Viceroy is," said David Shapiro, deputy chairman of Sasfin Wealth in Johannesburg. "They're an anonymous bunch of people; they may be absolutely 100 percent right, on the other hand they could be 100 percent wrong."

Traders are taking advantage of the rumors "and plugging the market without really applying common sense," he said. The real estate counters "are overvalued, but so is our market. We've got a hothouse of debt. Everyone is now panicking."
Steinhoff has lost more than 80 percent of its value since the owner of France's Conforama, Mattress Firm in the U.S. and Pep in South Africa said there were anomalies with its numbers on Dec. 5.
"The market is going through each company with a fine-tooth comb at the moment," said Petri Redelinghuys, founder of Johannesburg-based stockbroker Herenya Capital Advisors. "Following the Steinhoff collapse no one wants to be caught on the wrong side of that. It's actually insane what's going on with a company that can fall as much as 20 percent and then recover within three or four hours."
'False Information'
Following the stock's initial steep decline, Fortress REIT said on Thursday it anticipates increasing its interim dividend for each B share by as much as 15.5 percent. "Trading in the current financial year has been consistent with the prospects previously communicated to shareholders," the property company said.
A representative for Resilient said its stock was moving on market speculation of the possible Viceroy report, adding that the real estate investment trust hasn't been contacted by the research firm. Calls to Greenbay's offices weren't immediately answered. Nepi Chief Financial Officer Mirela Covasa said the company is looking into why its shares are declining.
"The mere existence of rumors which some investors decide to act on does not in itself point to any misconduct," the JSE's Davies said. "There would only be cause for concern if a person knowingly spread false information about a listed security which affected the value of that security."
— With assistance by Janice Kew
Quotes from this Article
Before it's here, it's on the Bloomberg Terminal.
LEARN MORE