Poland Drops Fine on U.S. News Outlet After Media Freedom Outcry
By and
Penalty reversal comes after presure from U.S. and investors

Prime minister plays down plans to quickly revamp media rules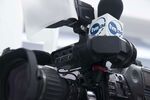 Poland's media-market regulator canceled a fine on the local unit of Scripps Networks Interactive Inc. for the way it covered anti-government protests, reversing its decision after criticism it was curbing independent news coverage.
The watchdog said on Wednesday it ran additional analysis and heard arguments from the broadcaster, TVN24, before annulling its 1.5 million-zloty ($432,000) fine. Scripps-owned TVN, which runs Poland's most-watched private news channel, said in a statement on Thursday it was "satisfied" by the decision.
The U.S. government said last month the fine "appears to undermine media freedom" while foreign companies voiced concern about the safety of doing business in the former communist country. Even as Poland's government battles its European Union partners amid accusations it's been eroding the rule of law, it has sought to keep warm relations with the U.S., a NATO ally that stations soldiers on its soil.
Piling Pressure
The watchdog imposed the fine on TVN24 for "propagating actions breaching the law and fostering activities that threaten safety" when it reported on street protests near parliament in December, 2016. Ruling party lawmaker Joanna Lichocka called TVN24's political coverage a mix of "manipulation and lies."
U.S.-based democracy watchdog Freedom House last year said Poland's media wasn't fully "free" for the first time since at least 1999 amid "government intolerance toward independent or critical reporting" and "excessive political interference" in public media. The authorities have been piling pressure on private broadcasters, who compete against public television run by a former ruling-party lawmaker.
Scripps bought TVN for more than $2 billion, including debt, in 2015. The Knoxville, Tennessee-based company is now being bought by Discovery Communications Inc., with uncertainty over the Polish asset, given the unclear regulatory environment, weighing on the deal. Discovery Chief Executive Officer David Zaslav said on Wednesday the Scripps deal was still on track to close this quarter even though there was "some news of a referral in Poland" regarding regulatory clearance.
Marek Niechcial, the head of Poland's antitrust office, said in October that TVN and its private peer Polsat may be abusing their position on the advertising market. In July, the tax office said TVN must pay 110 million zloty of back taxes stemming from a 2012 paid-platform deal.
Media Overhaul?
Polish ruling party officials have also repeatedly raised the idea of overhauling media-ownership regulations over the past year, promising to boost the role of domestically-owned news outlets. That could hurt the interests of foreign investors including Scripps, Ringer Axel Springer Media AG, Bauer AG and Verlagsgruppe Passau GmbH.
Prime Minister Mateusz Morawiecki, a western-educated banker who took over the government last month in a reshuffle aimed at soothing relations with the EU, said on Wednesday that there hasn't been much progress when it comes to revamping the media law. He added that any changes would comply with EU rules.
Before it's here, it's on the Bloomberg Terminal.
LEARN MORE