Pandora Investors Lose Patience With 'Excuses': Street Wrap
By and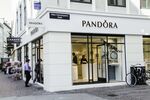 Pandora A/S shares plunged the most in more than six years after the company said revenue for 2017 will be lower than its prior forecast, citing a number of "external factors" including a difficult U.S. retail climate and currency headwinds. The market "will have little patience with the excuses," Jyske Bank analyst Frans Hoyer said, adding that a change of chief financial officer also raises red flags.
The jeweler, which lost more than a quarter of its market value last year after hedge funds speculated against the stock, fell as much as 15 percent in Copenhagen. Still, some analysts defended the company, with Sydbank's Soren Lontoft Hansen noting that growth targets for 2018-2022 show that "business is doing okay."

Jyske Bank, Frans Hoyer
(Strong buy)
2017's shortfall is mainly "due to FX" and underlying performance is "on par with our model," though 2018-2022 targets are below expectations, Hoyer said by email.
"The market will have little patience with the excuses" and the "change of CFO may also be an indicator of problems."
Notes that Pandora doesn't provide specific details on 2018 performance and U.S. market.
Sydbank, Soren Lontoft Hansen
(Buy)
The preliminary 2017 report is "on the weak side," showing that "Pandora is facing a tough retail situation on its mature markets," Lontoft Hansen said by phone.
2018-2022 Ebitda margin target of 35% is also "weaker than expected and will mean that the market consensus will have to be adjusted down."
On the positive side, 7%-10% growth target for 2018-2022 "is likely to satisfy the market as it underlines that Pandora's business is doing okay and is not about to collapse."
Hiring Anders Boyer as a new CFO is also a positive. "Anders Boyer has a lot of strong abilities and is a good communicator. He's not just a numbers guy, but a modern CFO who focuses on telling the story about the company."
DNB Markets, Ole Martin Westgaard
(Buy)
Fourth quarter revenue was "slightly short of expectations, and we find the 2018–2022 revenue and Ebitda margin guidance weak. Adding to the uncertainty is the departure of the CFO and the president of Americas."
"We believe an according negative share price reaction is fair, but that this could prove an attractive buying opportunity longer-term."
RBC Capital Markets, Piral Dadhania
(Outperform)
On balance, RBC sees the selloff following Thursday's news as overdone.
Sees strategic targets providing a back-stop and expects shares to re-rate on a 12-month view, assuming Pandora can take advantage of sequentially easing revenue comparatives.


Before it's here, it's on the Bloomberg Terminal.
LEARN MORE