politics
German Coalition Hinges on Pro-Europe Signal to Macron, Official Says
By and
SPD needs pro-Europe commitment to convince reluctant members

Schulz cites general agreement on more European solidarity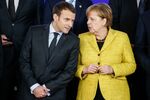 Germany's Social Democrats need a strong signal from Chancellor Angela Merkel that she is prepared to back French President Emmanuel Macron's initiative to bolster Europe if they are to agree on another coalition government, a senior party official said.
The SPD needs Merkel's party bloc to commit to a major European project in collaboration with France to convince its reluctant party base to sign off on an alliance, according to the official. The official asked not to be named because exploratory talks on forming a government, due to conclude later on Thursday, are confidential.
After the party slumped to its worst performance since World War II in September's election, many Social Democrats would rather rebuild the party's support in opposition than become junior partner in a coalition with Merkel for a third time. Still, European integration and reaching out to Macron are issues SPD delegates and the party's rank and file see as a chance to challenge Merkel's role as the euro-crisis manager.
A strongly pro-Europe signal from the talks, such as backing for a budget or finance minister for the euro area, would help SPD leader Martin Schulz win a majority at the party's Jan. 21 convention to start formal coalition negotiations, the official said. Any coalition agreement would need the approval of the party's largely pro-Europe members.
Schulz, a former European Parliament president, told reporters in Berlin on Thursday that the final day of exploratory talks will mainly focus on European issues and that his Social Democrats and Merkel's Christian Democrat-led bloc agreed that more solidarity and cooperation is needed.
Before it's here, it's on the Bloomberg Terminal.
LEARN MORE