Jeffrey Katzenberg Will Pay $3.5 Million to End Suit Over Comcast Deal
By and
Pension funds targeted side deal in Delaware Chancery suits

Comcast acquired animation studio in 2016 for $3.8 billion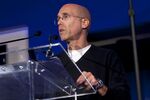 The former head of DreamWorks Animation SKG Inc., Jeffrey Katzenberg, agreed to hand over $3.5 million to investors who accused him in a lawsuit of improperly profiting from a side deal that he made when Comcast Corp. bought the animation company in 2016.
It's not clear whether the money will come out of Katzenberg's own pocket, or if he's covered by insurance, but having to pay it personally would be unusual.
"You would normally see something like this covered by insurance," said Charles Elson, director of the John L. Weinberg Center for Corporate Governance at the University of Delaware. "That's why you have director's and officer's coverage, because it would be hard to recruit directors if they had to personally pay to settle claims against them."
Under a deal to settle the lawsuits over the lucrative side deal, a DreamWorks holding company -- DWA Holdings -- also agreed to pay an additional $1 million, according to a filing Thursday in Delaware Chancery Court. The settlement resulted from an August mediation.
The payments cover fees racked up by lawyers for pension funds who sued over Katzenberg's deal in the $3.8 billion buyout of DreamWorks. Katzenberg and DWA didn't admit to any wrongdoing.
Dena Cook, Katzenberg's spokeswoman, said she couldn't immediately comment on the Delaware settlement. Chancery Judge Andre Bouchard must still sign off on the accord.
After selling his animation studio to Comcast, Katzenberg founded WndrCo LLC, a new media company aimed at creating short-form video. The longtime film executive raised $591.5 million for his latest venture.
The Ann Arbor City Employees Retirement System's pension fund and Teamsters Local 677 Health Services & Insurance Plan -- shareholders in DreamWorks -- said Comcast would've had to pay more than $41 a share without Katzenberg's side deal. Katzenberg controlled shares that carried 60 percent of the voting power in the studio.
To win his agreement, the pension funds said Comcast made Katzenberg chairman of DreamWorks New Media, which features an online studio for teen-oriented content and a 3-D animation business. They also gave him a consulting agreement that entitles him to 7 percent of the studio's profits in perpetuity.
The case is In RE DreamWorks Animation SKG Inc., No. 12619, Delaware Chancery Court (Wilmington)
Before it's here, it's on the Bloomberg Terminal.
LEARN MORE