Fed's Dudley Worries Tax Cuts Risk Overheating U.S. Economy
By
Adds up to strong case for additional rate hikes, Dudley says

Low inflation outweighed by strong growth and easy conditions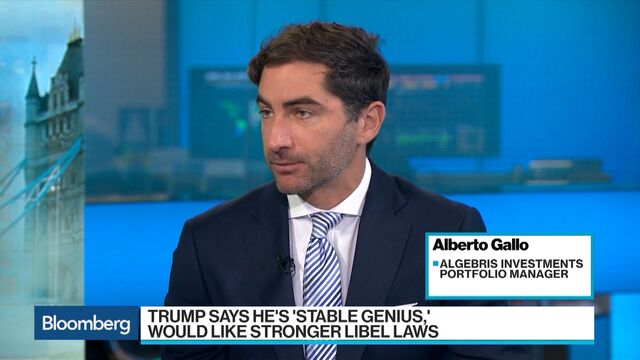 The risk of an overheating U.S. economy in the next few years, partly fueled by tax cuts, reinforces the case for continued gradual interest-rate increases, Federal Reserve Bank of New York President William Dudley said.
"While the fact that inflation is below the FOMC's 2 percent objective argues for patience, I think that is more than offset by an outlook of above-trend growth, driven by accommodative monetary policy and financial conditions as well as an increasingly expansionary fiscal policy," Dudley said Thursday in remarks prepared for a speech in New York.
"Moreover, if the labor market were to tighten much further, there would be a greater risk that inflation could rise substantially above our objective," which in turn could force the Fed to raise rates faster and potentially trigger a recession by doing so, he added.
Dudley, 65, plans to retire this year when the New York Fed finds a replacement, following a decade running the bank. The search for his successor is under way.
Fed officials expect tax cuts signed into law by President Donald Trump last month to boost economic growth this year without putting upward pressure on prices, according to projections they published after their Dec. 12-13 meeting. The median estimate of the 16 participants on the interest-rate setting Federal Open Market Committee was that it would be appropriate to raise rates in quarter-point increments three times this year.

Dudley told the audience during a question and answer session that three moves this year "doesn't seem to be an unreasonable sort of starting point," though the ultimate pace of policy tightening will depend on how the economy evolves.
"If the economy is stronger than we think, if inflation rises more quickly, then I can certainly imagine that we'd do more than we said. If the economy is weaker than we think, or inflation stays stubbornly low, we could do somewhat less than we think," he said. "So, I think it really depends on how all of these things sort of evolve. But clearly the financial conditions piece pushes on the side of going faster."
Investors are giving them good odds of achieving the projection for three hikes this year, according to the prices of futures contracts linked to the U.S. central bank's benchmark federal funds rate. Still, lingering uncertainty about why inflation has remained below the FOMC's 2 percent target despite a declining unemployment rate, and about whether it will pick up this year, is clouding the outlook.
Dudley said in his speech that the tax cuts and recent strengthening of economic momentum prompted him to raise his forecast for U.S. economic growth in 2018 "by about half a percentage point to three quarters of a percentage point to a 2.5 percent to 2.75 percent range." The tax legislation accounts for about two-thirds of the upgrade, he said.
Faster economic growth from the tax cuts at a time when the labor market is already tight and financial conditions are already easy "suggests that the Federal Reserve may have to press harder on the brakes at some point over the next few years," Dudley said. "If the labor market tightens much further, it will be harder to slow the economy to a sustainable pace, avoiding overheating and an eventual economic downturn."
Another risk Dudley cited was the country's long-term fiscal position. While the tax cuts stimulus may help boost consumer spending and business investment in the short run, "the current U.S. fiscal position is far worse than it was at the end of the last business cycle."
Before it's here, it's on the Bloomberg Terminal.
LEARN MORE