climate-changed
California Vote Seals Fate of State's Last Nuclear Plant
By
PG&E's Diablo Canyon reactors set to retire in 7 years

Closure marks end of age of nuclear power in Golden State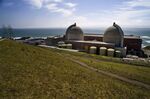 California regulators approved a plan to close the state's last nuclear power plant, marking an end to the controversial era of atomic power in the Golden State.
PG&E Corp.'s Diablo Canyon reactors will shut in 2024 and 2025 when their federal operating licenses expire, according to a unanimous vote on Thursday by the California Public Utilities Commission. Two years ago, the utility-owner reached an agreement with environmental groups and labor unions to retire the facility and noted that it saw less of a need for its carbon-free output because of projected increases in renewable energy and decreases in customer energy use.
"We chart a new energy future by phasing out nuclear power here in California," California PUC President Michael Picker said at Thursday's meeting. "Diablo Canyon is no longer economic and PG&E has asked us to allow it to close it down."
PG&E had proposed to recover nearly $1.8 billion from customers to pay for the plant's shutdown, including $1.3 billion to find energy efficiency services to partially replace its generation. The commission allowed the utility to recover only a portion of that amount -- $241 million -- that could be used to retrain plant workers and pay for other shutdown costs. The commission said PG&E would have to go through a separate planning process to find replacement power.
Nuclear power plants across the U.S. are facing competition from generators that burn cheap natural gas. In the past seven years, six nuclear plants have announced early retirements, mostly for economic reasons, and several more face early closure. States including New York and Illinois have come to the rescue of ailing reactors by offering additional payments for their carbon-free energy.
In California, environmental groups had fought to close Diablo Canyon, raising concerns about the reactors' proximity to fault lines prone to earthquakes. That worry picked up steam after the Fukushima nuclear disaster in Japan in 2011. PG&E said the plant was safe and noted that its carbon-free power contributed to about a quarter of its energy mix.
PG&E said that it didn't expect to incur additional charges as a result of the decision, according to a filing Thursday.
(
Updates with comment from commission president in third paragraph.
)
Before it's here, it's on the Bloomberg Terminal.
LEARN MORE