business
Your Evening Briefing
Here are today's top stories
By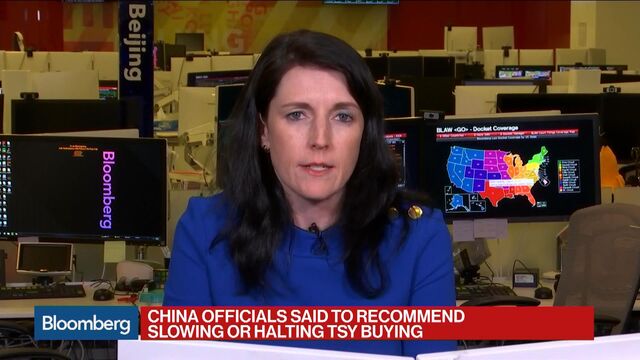 Want to receive this post in your inbox every afternoon? Sign up here.
Forty-two thousand Americans died of an opioid overdose in 2016. Millions more are addicted. In an op-ed for Bloomberg View, Michael R. Bloomberg calls for more treatment and bolder leadership as part of a plan to end the crisis.—Josh Petri
China could make it harder for U.S. Treasury Secretary Steven Mnuchin to finance budget deficits brought on by President Donald Trump's tax cuts. Chinese officials reviewing the nation's foreign-exchange holdings have recommended slowing or halting purchases of U.S. Treasuries. While it's not clear whether the talk would lead to any concrete change, the news added to bond investors' woes.
Traders aren't falling for crypto name changes, but they love them anyway. Some experienced day-traders are trying to ride the surge of buying that invariably follows companies that suddenly reinvent themselves as blockchain ventures. That's enough to bring in high-frequency traders and computer algos.
Michael Bloomberg's seven-step plan for ending the opioid crisis. "This is a solvable problem, and through philanthropy we can make some progress," he writes. "But real success requires much bolder leadership—and a far greater sense of urgency—from both elected officials and industry leaders."
High-speed rail now rivals air travel on key European and Asian routes. Trains traveling between Paris and Lyon, London and Brussels, or Madrid and Barcelona have gotten so good they now rival air travel on the same routes. Put that together with the environmental benefits that flow from not burning jet fuel and staying on the ground begins to make more sense for travelers who would otherwise trudge to the airport.
President Donald Trump says Democratic Senator Dianne Feinstein's testimony release may have been illegal and called on Republicans to "take control" of congressional probes. On Tuesday, Feinstein released the full transcript of the Senate Judiciary Committee's closed-door interview with Glenn Simpson, a former journalist who co-founded Fusion GPS, the firm that commissioned a controversial dossier alleging connections between the president and Russia.
Warren Buffett says the U.S. tax cut makes stock ownership more attractive. The billionaire said the legislation will make companies more valuable by giving owners a bigger share of profits. Meanwhile, Buffett finally confirmed what many investors have already guessed about who will succeed him as CEO of Berkshire Hathaway by naming two senior executives—Ajit Jain and Greg Abel—to the company's board.
The most awful transit center in America could get unimaginably worse. New York's Penn Station is a confusing collection of harshly-lit, low-ceilinged subterranean corridors. Locals race through the place, desperate to escape; out-of-towners are often lost in its depths. But as bad as the station looks, the tunnels that serve it are even worse. If just one should fail, the entire region could come screeching to a halt.

Before it's here, it's on the Bloomberg Terminal.
LEARN MORE