University of Virginia Names Interim CEO of $8.6 Billion Fund
By and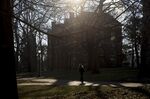 Kristina Alimard was named interim chief executive officer of the University of Virginia's $8.6 billion endowment.
Alimard, the fund's chief operating officer since 2007, confirmed the Jan. 1 appointment in an email on Wednesday. Executive recruiter Dore Partnership is conducting a search for a replacement, the University of Virginia Investment Management Co. said.
Sargent McGowan, who's been with the endowment since 2013 and is currently a managing director, was named interim chief investment officer, Alimard said.
Lawrence Kochard stepped down Dec. 31 as CEO of the fund after seven years to pursue other investing opportunities. He's now CIO at Makena Capital Management.
The University of Virginia is the fifth-largest public school endowment in the U.S., according to data compiled by Bloomberg. The fund had a 7.3 percent annualized return in the 10 years through June 30. The performance isn't net of fees; most endowments report investment performance that includes fees.
Before it's here, it's on the Bloomberg Terminal.
LEARN MORE