Trump Again Demands Wall as Lawmakers Chase Immigration Deal
By and
DACA progress could open way for bipartisan budget agreement

Parties split over whether to include deal in funding measure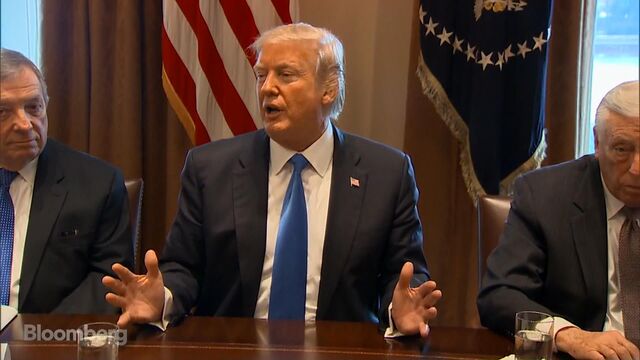 President Donald Trump said he's not backing down on funding a border wall in any immigration deal as lawmakers from both parties were rushing to cobble together an agreement that can survive hardliners' opposition and win bipartisan support.
"It's got to include the wall," Trump said at a news conference Wednesday where he was asked if he would sign immigration legislation that didn't provide money to begin building a physical barrier on the U.S.-Mexico border. "Security is number one, so the answer is you have to have the wall."
Lawmakers involved in the negotiations shuttled between the House and Senate seeking accord on legislation that would give protection against deportation to some 800,000 young undocumented immigrants who were brought to the U.S. as children, while also meeting Trump's conditions of tighter border security, restrictions on family preferences in immigration and an end to a diversity visa lottery.
An immigration agreement could open the way to a broad spending bill, which in turn could carry disaster relief funds, legislation stabilizing Obamacare and other measures that stalled in December.
CEO Pressure
A group of more than 100 chief executives, including Mark Zuckerberg of Facebook, Mary Barra of General Motors Co., Apple Inc.'s Tim Cook and Accenture North America's Julie Sweet, joined in the push by Democrats to pass a deal by next week. They wrote to the Republican and Democratic leaders and urged them to "act immediately" to let young immigrants given protection under the Obama-era Deferred Action for Childhood Arrivals program, or DACA, remain in the country.
"It is critical that Congress act to pass legislation before January 19th," the letter says. "In addition to causing a tremendous upheaval in the lives of DACA employees, failure to act in time will lead to businesses losing valuable talent, cause disruptions in the workforce, and will result in significant costs."
Democrats have been insisting that any immigration compromise be part of a spending deal, which is needed to keep the government open after Jan. 19, and that remains a major hurdle. Lawmakers also haven't reached a consensus on border security and the other terms set by Trump, while a group of conservative Republicans in the House were pushing for a deal with tighter restrictions on immigration.

Congressional Negotiations
While Trump has never wavered in his demand to build the wall, he told a group of lawmakers from both parties at the White House on Tuesday that he'd go along with whatever they hammer out.
"I will be signing it," Trump told them. "I'm not going to say, 'Oh, gee, I want this or I want that.'"
Despite Trump's record as an unpredictable negotiating partner who sometimes switches positions, members of both parties expressed optimism that they had room to negotiate.
"Oh yeah, we're close," Arizona Republican Jeff Flake said after leaving a meeting of a bipartisan group of senators who have been working on an immigration compromise for weeks.
Judge's Ruling
Republican and Democratic leaders said that a ruling by a federal judge in San Francisco on Tuesday that temporarily blocked Trump's decision to terminate the DACA initiative won't hold back the effort to write the program into the law. The program is to end on March 5.
Senate Democratic leader Charles Schumer of New York said on the Senate floor Wednesday that the court decision "in no way diminishes the urgency of resolving the DACA issue." Senate Republican Whip John Cornyn of Texas agreed, telling reporters he's determined to help set up a timetable for further bipartisan negotiations that will also involve top administration officials.
"My sense is that it doesn't change the need for us to act, so we're going forward," Cornyn said.
Cornyn set up a meeting Wednesday with No. 2 Senate Democrat Dick Durbin of Illinois, House Majority Leader Kevin McCarthy of California and House Democratic Whip Steny Hoyer of Maryland to talk about a timetable for negotiations. White House Chief of Staff John Kelly and Homeland Security Secretary Kirstjen Nielsen will also be part of the talks, he said.
Making Progress
Durbin, who also is part of the bipartisan Senate group, expressed concern that there was so little time left to get an agreement before the Jan. 19 deadline for a funding measure. He wouldn't say whether that meant an increased risk of a partial government shutdown if there's no deal on immigration, but said the group is moving closer to agreement.
"We still have some work to do, but we have made real progress," Durbin said.
Hoyer, who was at the White House meeting with Trump on Tuesday, said despite support for finding a legislative solution for DACA from Trump and other Republicans, "There were obviously items that were listed on which there clearly is disagreement."
Among those are just how extensive a border wall might be, and how much to restrict family preferences for immigration, which Trump calls chain migration.
Wall Proposal
A Homeland Security proposal to spend $18 billion over 10 years for a wall at the U.S.-Mexico border, including 722 miles of new and replacement barriers, was circulated last week and immediately rejected by Democrats.
Democratic Senator Patrick Leahy of Vermont, speaking on the Senate floor Wednesday, called the wall plan a "last-century solution."
But what a "wall" would look like has been the subject of debate among Republicans. Senator John Thune of South Dakota, the No. 3 Republican, told reporters Monday that "a wall can be defined in a lot of different ways."
With Republicans holding just 51 of 100 Senate seats, at least nine Democratic votes are needed to push a deal through that chamber, and that gives Schumer leverage.
"Senator Schumer basically has a veto card" on government spending and immigration, said Representative Chris Collins, a New York Republican and close Trump ally.
— With assistance by Anna Edgerton, Sahil Kapur, Steven T. Dennis, Jennifer Epstein, and Yueqi Yang
Before it's here, it's on the Bloomberg Terminal.
LEARN MORE