politics
Trump Lawyer Hits Back Against Russia Dossier
By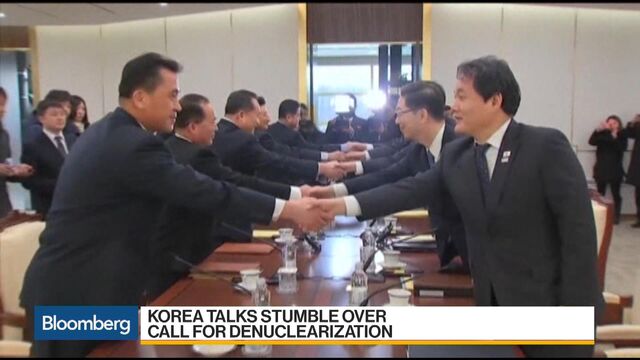 Want to receive this post in your inbox every morning? Sign up for the Balance of Power newsletter, and follow Bloomberg Politics on Twitter and Facebook for more.
Donald Trump's personal attorney is hitting back amid mounting risks for the U.S. president from Special Counsel Robert Mueller's Russia-meddling probe.
Michael Cohen is suing Buzzfeed for publishing a dossier with unverified claims that he and Trump had suspicious connections with Russian figures before the election, Jennifer Jacobs reports. Cohen filed a second defamation suit against Fusion GPS, the company that compiled the report at the behest of Trump's political adversaries.
Some Republicans allege the dossier provided an improper basis for the FBI to open its probe into Trump's alleged Russian ties. Democratic Senator Dianne Feinstein sought to dispel that narrative yesterday by releasing the transcript of a closed-door interview with the founder of Fusion GPS that her Republican colleagues refused to make public.
Given that Trump has long relied on lawsuits — or threats of them — to cow opponents, Cohen's moves can be viewed as the latest attempt by the president and his associates to paint Mueller's probe as politically motivated.
Expect those efforts to continue. With the president's legal team preparing for a potential interview with Mueller — and several former Trump aides already under indictment — the risks to Trump's presidency are increasing.

Global Headlines
Seoul's bottom line | South Korean President Moon Jae-in vowed to never accept North Korea's nuclear program, a day after the issue emerged as a rift during the neighbors' first formal talks in more than two years. The remarks may reassure the U.S. and Japan that Moon, who favors a softer approach to North Korean leader Kim Jong Un, won't let talks undercut their pressure. Moon may soon find himself caught between his hopes for rapprochement and a North Korean red line over its nuclear program.
Immigration breakthrough? | A federal judge temporarily blocked the Trump administration's decision to end a program shielding more than 100,000 children of undocumented immigrants from deportation. The move, which came hours after the president gave Congressional Republicans a green light to negotiate a bipartisan immigration deal, could embolden Democrats, who are pressing for protections for the young immigrants in question as part of legislation needed to avert a government shutdown next week.
France's China foray | French President Emmanuel Macron came to China bearing a gift — a retired Republican Guard horse — and a mission to promote Europe as a more trade-friendly alternative to Trump's America. He left today much like his U.S. counterpart did two months ago, Helene Fouquet reports, with some paper commitments for business deals and urging a more forceful response to Chinese trade practices. He may not have won success, but he's not giving up: he promised to come back each year of his presidency.

Trump crashing Davos | The U.S.'s provocateur-in-chief will get a chance later this month to tweak the elites who celebrate the global order he seems eager to tear down. While his "America First" agenda promises to receive an icy reception at the World Economic Forum, Trump's bellicose tweets, protectionist threats and disdain for international agreements make him the event's most closely watched figure.
Saudi struggles | All-powerful Crown Prince Mohammed bin Salman is finding his authority stops at the kingdom's borders. His foreign-policy ventures in Yemen, Qatar and Lebanon have alarmed Saudi allies more than its foes, Glen Carey writes, while intensifying risks for the region and Saudi nationals at home. And in his growing preoccupation with countering Iran, the prince is partnering with an increasingly isolated Trump administration.
And finally... After more than five years holed up in Ecuador's embassy in London, Julian Assange has worn out his welcome. While the previous administration in the Andean nation viewed the Wikileaks leader as a way to thumb its nose at the U.S., Ecuador's new president now sees him as a diplomatic liability. His government wants a "definitive solution" to resolve Assange's status, saying he can't stay at the embassy forever.

(
Corrects location of Ecuador.
)
Before it's here, it's on the Bloomberg Terminal.
LEARN MORE