Treasury's Malpass Says U.S. Bond Market Robust, Warns on China
By and
Malpass says Chinese subsidies distort allocation of capital

Calls for "more modesty" by international institutions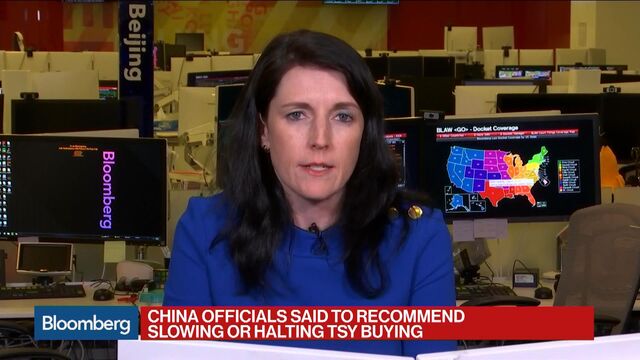 A top U.S. Treasury official dismissed concerns about Chinese demand for U.S. debt, as he lashed out at Beijing's economic policies, which the Trump administration says have moved away from a path of market liberalization. 
"As we look at China now, it's putting emphasis on state-owned enterprises on the involvement of the party, the political apparatus into the business sectors, heavy subsidies continuing, which distorts the allocation of capital," Under Secretary for International Affairs David Malpass said to a group of reporters in Brussels.
His comments came as Beijing officials reviewing China's foreign-exchange holdings have recommended slowing or halting purchases of U.S. Treasuries, according to people familiar with the matter. "The U.S. Treasury market is a deep, robust market within the world and so we are confident that our economy, with the economy strengthening, that it will remain a deep, robust market," Malpass said on Wednesday when asked to comment on the news.
Yields on U.S. debt have been climbing this week amid expectations the improving global economy will boost inflation pressures around the world, just as major central banks scale back their asset purchases. "If we talk about asset prices in general we clearly have a situation where bond yields have stayed low as global growth has expanded," Malpass said. "That actually may end up being a good sign for global growth, meaning there's a lot of capital available for good projects."
Davos Intervention
Meanwhile, he attacked Chinese policies supporting state-owned businesses and their impact on the country's trade relationship with the U.S. He added that he expects President Donald Trump to defend his "America First" policy when he speaks at the World Economic Forum in Davos, Switzerland, later this month.
"I expect him to give strong remarks favoring U.S. workers and explaining how his presidency is characterized by putting American interests first in terms of our policies but also the importance of being engaged in world affairs as we continue to be," Malpass said, after meeting European Union officials in Brussels, including chief Brexit negotiator Michel Barnier and aides of EU President Donald Tusk.
"The U.S. is looking for trade relationships that are free and fair and reciprocal," he said, adding that one of the problems with China is that there is often no reciprocity as they are able to invest more easily into Europe and the U.S. than they allow investment into China. "That's not a level playing field -- that's not fair in the sense of a free and fair relationship."
In cautioning about factors that could impede global growth, Malpass also took aim at multilateralism, calling for "more modesty" from international institutions and "less expansiveness" in terms of what they are asking of taxpayers around the world. His comments come as Trump has voiced skepticism about multilateral institutions such as the World Trade Organization and threatened to unravel trade agreements.
He said growth, both in the U.S. and across the world, arises through individual action and through small businesses operating within a market environment. "As you overlay that with too much multilateralism, that can actually impede the growth process and in some areas we think we've gone too far along those lines," he said.
Before it's here, it's on the Bloomberg Terminal.
LEARN MORE