Business Lobby Risks Clash With Trump on Trade, Immigration
By and
Chamber's Donohue warns on Nafta withdrawal, D.C. dysfunction

Group more aligned with White House on infrastructure plan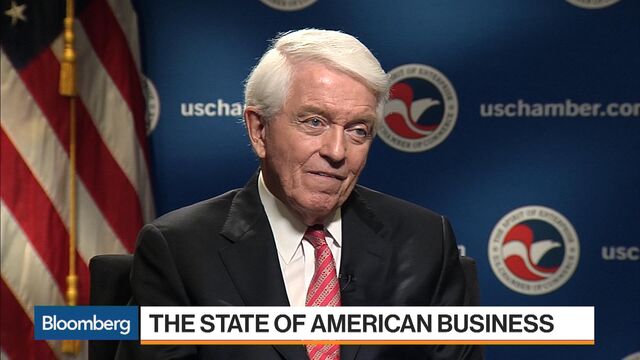 Chamber of Commerce President Thomas Donohue called for pro-trade policy and immigration changes and warned against dysfunction in Washington, setting up the largest business lobby for potential conflict with the White House over the best path for growth. 
After finding common cause in 2017 with President Donald Trump on tax cuts and regulatory rollbacks, the powerful conservative business group could part ways with the White House on key issues including trade and the midterm elections.

"A major mistake in Washington -- such as withdrawal from Nafta or defaulting on our debt -- would undermine our growth," he said during his annual speech on the state of American business Wednesday. "An upheaval in our government would sap confidence, stoke uncertainty and stymie progress on a pro-growth agenda."
The chamber is at odds with the Trump administration over threats to withdraw from the North American Free Trade Agreement and actions to do away with protections for undocumented immigrants brought to the U.S. as children.
Donohue also warned against a "backlash against major tech companies" generated by what he called regulatory overreach that he said could stifle innovation. 
The group, which is one of Washington's highest-spending in lobbying and election campaigns, is more in sync with the White House on the need to improve the country's crumbling highways, bridges and other infrastructure.
"We cannot build a 21st century economy on 20th century infrastructure," Donohue said.
His speech comes as congressional leaders continue to negotiate on a government spending bill before a Jan. 19 deadline. A key issue is the status of approximately 800,000 people brought to the U.S. illegally as children. The chamber is leading a coalition calling for an agreement that would protect the so-called dreamers, who face deportation under Trump's decision to end an Obama-era program that shielded them.
He acknowledged the chamber still has differences with the White House on the issue, despite a public meeting Trump held with congressional leaders Tuesday.
Immigration Overhaul
Beyond dreamers, Donahue told reporters after the speech that a larger immigration overhaul should keep medical and other highly trained workers in the U.S., protect those who move across the border for jobs and allow for more seasonal employees.
"If we don't have the workers, people are going to figure that out in a big hurry," he said.
The group also is likely to find itself at odds with the White House over trade, with Donohue telling Bloomberg TV after the speech that the U.S. is "having vigorous debate about trade and what role that plays in the American economic system." The chamber's advocacy of free trade clashes with Trump's threat to pull the U.S. out of major accords, including the Nafta treaty with Canada and Mexico.
"The American economy has taken several big steps forward with regulatory relief and tax reform, and the administration deserves lots of credit," Donohue said during the speech. "But a wrong move on Nafta would send us five steps back."
Nafta Talks
Talks to renegotiate Nafta resume in late January in Montreal, with hopes riding high for a breakthrough after months of scant progress. The chances of Trump giving six months' notice to withdraw from the deal appear to be rising, two Canadian officials who spoke on condition of anonymity told Bloomberg. The move is not binding and wouldn't necessarily kill the agreement.
Comparing the deal to the scuttled Trans-Pacific Partnership, Donohue said on Bloomberg that if the U.S. exits Nafta "the way the administration pushed aside the Pacific trade agreement, we're in a crisis."
He said, though, that the chances of the U.S. pulling out of Nafta had decreased greatly in the last six months.
"I think the people involved in this are getting a little more educated," he said.
Better Deals
Overall, Donohue expressed optimism about the economy because of the Trump administration's actions in 2017.
"I believe businesses feel they've got a better tax deal, they've got a better regulatory environment and the government is debating and looking at the fundamental questions of what they're worried about," he told Bloomberg.
Still, Donohue cautioned in the speech about headwinds, including what he described as a growing "techlash" that could prompt against excessive regulation. In the U.S., major internet companies including Alphabet Inc.'s Google and Facebook Inc. have faced pressure from some lawmakers over their size and the exploitation of their platforms by Russian meddling in the 2016 election. They also face scrutiny in Europe over competition and privacy issues.
Upgrade Infrastructure
Donahue said the chamber will have recommendations for an initiative to upgrade U.S. infrastructure at an event scheduled on Jan. 18 in Washington. But he sounded a cautionary note about passing a bill after Congress enacted a $1.5 trillion tax overhaul in December, and about the lack of workers to fill new jobs that would be created.
"I don't think the Congress of United States is prepared, ready or able to put up trillions of dollars -- or a trillion dollars over an ensuing period of time -- for infrastructure having just done the things on tax relief," he told reporters after the speech.
Donohue also called for addressing entitlement spending. House Speaker Paul Ryan has called this a goal for 2018, although Senate Majority Leader Mitch McConnell said he does not see the issue coming up. Donohue conceded the idea of cutting benefits is politically unpopular, but said economic growth could make Americans more open to the proposal.
"I fundamentally believe that we can, working together in a really bipartisan way, do something with this," he said.
Particularly on infrastructure and entitlements, Donohue stressed the importance of cooperation between Republicans and Democrats.
"We want more from both sides," Donohue said.
The group is expected to spend heavily in this year's congressional elections. Already, it has spent $2.6 million in the 2018 election cycle, with all of that total going to bolster Republicans or oppose Democrats.
Besides influencing campaigns through television advertising and campaign contributions, the chamber is also one of the top spenders on lobbying in Washington. Through the first three quarters of 2017, it spent about $42 million on lobbying and ranked first for total spending on such efforts, public records compiled by Bloomberg Government show.
— With assistance by John McCormick
Before it's here, it's on the Bloomberg Terminal.
LEARN MORE