Supranationals Kickstart Canada Issuance in 2018 With Double Hit
By
World Bank, EIB opened books on sales of Canadian dollar bonds

Both return to the Canadian market after skipping last year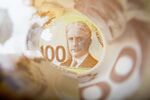 The world's largest development banks were the first to open books on Canadian dollar debt transactions this year, offering more diversification to a market longing for new supply.
The World Bank priced C$1 billion ($802 million) of five-year global sustainable development bonds on Tuesday at two basis points above midswaps, with demand exceeding C$1.2 billion, according to information from people familiar with the matter. The European Investment Bank will price its offering of at least C$500 million of same-maturity climate awareness bonds on Wednesday.
"For a Canadian investor, this is a great diversification opportunity," said Randall Malcolm, Toronto-based managing director at Sun Life Investment Management, which bought World Bank's bonds. "You can diversify, you're supporting a good cause and you're getting the triple-A rating as well."
World Bank's bonds were priced at about 37 basis points above similar-maturity Canada federal government debt. For comparison, Ontario's bond due January 2023 traded at 40 basis points above Canada bonds, while Canada Housing Trust's securities due September 2023 traded at a spread of 30 basis points, according to data compiled by Bloomberg.
The supranational bank returned to the Canadian bond market after its last major sale in March 2016. Before that it had been a regular once-a-year issuer in the Canadian dollar since 2011 and sold five-year debt in each of its last five offerings. This week's transaction was led by Bank of America Merrill Lynch and BMO Capital Markets.
The European Investment Bank has returned to the Canadian market after its last sale took place in September 2016. It is offering five-year bonds with an initial price target around five basis points over midswaps in a deal led by CIBC World Markets, HSBC Securities Canada, RBC Capital Markets and TD Securities. Funds raised from this offering will be used for EIB's lending projects within renewables and energy efficiency.
"These issues are a healthy source of diversification in the Canadian core bond universe," said Andy Kochar, a Toronto-based fund manager at AGF Management Ltd. "Some of these issuers retain credit quality that's far superior relative to a province or a corporate and that compensates you adequately for the prevailing credit as well as liquidity risk."
Before it's here, it's on the Bloomberg Terminal.
LEARN MORE