SuperDry Resembles SuperDrop as New Name Can't Hide Growth Slump
By and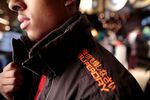 Only two days after SuperDry Plc adopted the branding that made its hoodies a favorite with teenagers and parents alike, its shares suffered a not-so-super drop.
The stock sank as much as 11 percent Wednesday after the former SuperGroup reported a slowdown in sales that's hardly in keeping with its fast-growth profile. Like-for-like sales rose 4.7 percent in the crucial 10-week holiday period, compared with 21 percent growth in the same period a year earlier and a 6.3 percent first-half increase.

A continued move online by consumers means SuperDry's digital strategy requires an even greater focus, the company said, adding that more in-store innovation is also needed.
Still, most analysts remain broadly positive about the outlook for a stock that has no sell ratings. Opportunities for expansion in North America and Asia, underpinned by a universal brand appeal, remain compelling, according to Royal Bank of Canada's Piral Dadhania.
Before it's here, it's on the Bloomberg Terminal.
LEARN MORE