Sears Gets Yet Another Lifeline as Retailer Vies to Hang On
By
Cash infusion needed after holiday-season sales disappoint

Company received $100 million of financing, in talks for more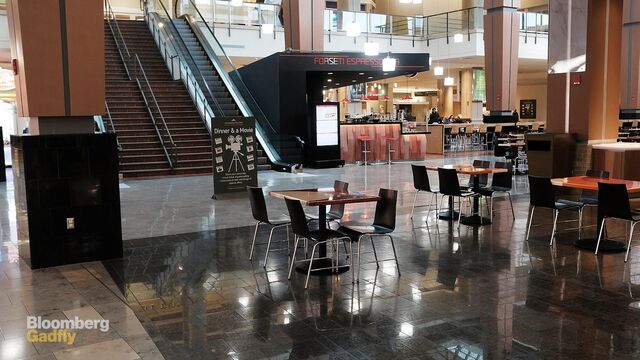 Cash-strapped Sears Holdings Corp. raised $100 million in new financing and is in talks to get $200 million more after failing to stem sliding sales during the crucial holiday season.
The retailer is borrowing the $100 million from ESL Investments Inc., according to a filing. That's the hedge fund run by Edward Lampert, the company's chief executive officer and its biggest investor. The interest rate is 12.5 percentage points above Libor, and the company can defer cash payment in the first year. The overall goal is to ease the terms on more than $1 billion of non-first lien debt, Sears said, and it's already arranged to get a break on some second-lien notes that mature in October. 
"This $100 million is better than zero, but it's a long way from what they're going to need," said Noel Hebert, a credit analyst at Bloomberg Intelligence. "They're still going to have to find several hundred millions of dollars over the course of the year just to fund operating losses."
Sears has been trying to hold onto its business amid falling store traffic and sales. The 125-year-old retailer, based in Hoffman Estates, Illinois, has relied on asset sales and infusions from Lampert to offset billions of dollars in losses. It's also closed hundreds of stores and cut more than $1 billion in expenses.
The $100 million term loan will be supported by ground leases and select intellectual property, according to the statement. Hebert says this means there's not much left in the business that can be turned into cash. The company's shares added 3.5 percent to $3.24 at 10:49 a.m. in New York, while its bonds were little changed.
Comparable-store sales, a closely followed metric, fell as much as 17 percent at Sears and Kmart during November and December. Adjusted earnings before interest, tax, depreciation and amortization could amount to a loss of as much as $70 million for the quarter, it said.

The retailer plans to cut costs by $200 million this year, unrelated to store closures. The company reached an agreement with the U.S. Pension Benefit Guarantee Corp. in November that will allow it to sell 140 properties to raise funds needed for its retirement obligations.
Sears expects its net loss in the fiscal fourth quarter will range from $200 million to $320 million, narrowing from $607 million a year earlier. The retailer will continue to look at strategic options for its real estate portfolio, and for iconic brands including Kenmore appliances and DieHard batteries, according to the statement.
With $1.5 billion in debt due this year, Sears has been looking for ways to delay maturities. It paid a 2 percentage point fee in December to extend a $400 million loan's due date to January 2019 from June 2018 with the option to extend it another six months, Bloomberg reported last month.
— With assistance by Jonathan Roeder
Quotes from this Article
Before it's here, it's on the Bloomberg Terminal.
LEARN MORE