Rand Tumbles Most Among Peers as Zuma Seeks to Dodge Exit Calls
By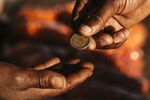 South Africa's rand fell the most among emerging-market currencies after President Jacob Zuma took steps to defuse possible calls for his ouster by the ruling party.
The rand sank 1.2 percent to 12.4952 per dollar as of 1:07 p.m. in Johannesburg on Wednesday after Zuma said he will appoint a commission of inquiry into allegations his friends were allowed to influence state decisions. Bond yields rose and the currency extended declines after the secretary general of the ruling party said Zuma's ouster is not on the agenda of a meeting Wednesday.
Zuma's move and the rand's reaction came before the new top leadership of the ruling African National Congress gathers for the first time. Zuma appointed the commission to reduce the chances of him being removed before the party's 106th anniversary celebrations this weekend, according to officials with knowledge of the matter.
"The market has increasingly priced in the fact that Zuma will step down before the 2019 election," said Christopher Shiells, managing analyst for emerging markets at Informa Global Markets. "Hence there has been such a very sharp move on the headlines we are seeing now. If the last few days are anything to go by, then Zuma will continue to move markets."
Read more: How Fake News and Elon Musk Sent South Africa's Currency Haywire
The election of Deputy President Cyril Ramaphosa to replace Zuma as leader of the ANC in December helped drive the rand to its best monthly rally since 2009. Zuma's tenure as national president ends next year. Yields on the government's 10-year notes rose seven basis points to 8.64 percent.
Before it's here, it's on the Bloomberg Terminal.
LEARN MORE