Ramaphosa to Lead South Africa's Delegation to Davos
By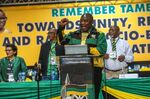 South African Deputy President Cyril Ramaphosa will lead to nation's delegation to World Economic Forum gathering in Davos later this month, the presidency said in an emailed statement.
This is because President Jacob Zuma will lead the country's representatives at the African Union summit in Addis Ababa in Ethiopia, which takes place in the same week, the presidency said.
Ramaphosa replaced Zuma as head of the ruling African National Congress at an elective conference last month. The party's new top leadership meets for the first time on Wednesday and a proposal to order Zuma to step down as president of the country before his term ends in 2019 will be discussed at the gathering in the city of East London, according to three people who spoke on condition of anonymity.
Before it's here, it's on the Bloomberg Terminal.
LEARN MORE