politics
Pence to Lead U.S. Delegation to Olympics in South Korea
By
High-level representation said to send North Korea a message

Vice president also plans to travel to Alaska and Japan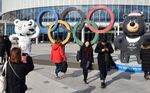 Vice President Mike Pence will lead the U.S. delegation to the Winter Olympics in South Korea next month in an attempt to send a signal to the North Korean regime, according to a senior administration official.
Pence also plans to travel to Alaska and Japan, according to the official, who requested anonymity to discuss the trip before an announcement. Part of the trip will include a review of intercontinental ballistic missile defense systems, the official said.
Pence, who traveled to South Korea and Japan last year and declared an end to "the era of strategic patience'' with North Korea's nuclear ambitions, will travel to the region in the wake of new diplomatic talks between the two Koreas.
North Korean leader Kim Jong Un said earlier this month that North Korea's nuclear capabilities were a "reality'' that the U.S. and other nations would have to accept.
President Donald Trump responded by tweeting that his "nuclear button'' was bigger and more powerful.
Pence will travel with his wife, Karen Pence, and also show support for U.S. military stationed abroad, the official said.
Before it's here, it's on the Bloomberg Terminal.
LEARN MORE