politics
Moon Vows to Never Accept North Korea's Nuclear Program
By
South Korean leader says ready to meet Kim under right terms

Remarks come a day after a rift emerged in formal talks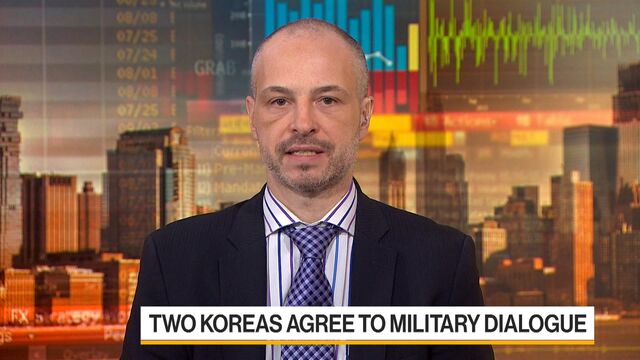 South Korean President Moon Jae-in vowed to never accept North Korea's nuclear program, while also saying he was prepared to meet Kim Jong Un under the right conditions.
"Denuclearization on the Korean Peninsula, which South Korea and North Korea jointly declared in the past, is a position that we could never concede," Moon said Wednesday during an extended press briefing in Seoul. He added that South Korea backs a peaceful resolution, saying that "war shouldn't be repeated on Korean Peninsula."
As North Korea Wins Trip to Olympics, Discord Remains Over Nukes
His remarks come a day after a rift emerged in the first formal talks between the neighbors in more than two years. Pyongyang's chief negotiator made a "strong complaint" that Seoul dared to even raise the possibility of denuclearization at such an early stage. Kim declared earlier this month that he had the ability to hit the U.S. with a nuclear weapon, and has repeatedly called on the world to accept North Korea as a nuclear power.
"Denuclearization and inter-Korean relations are not separate issues," Moon said. "Fortunately, the North came to the table of dialogue before the accidental conflict broke out. It's our task to make it eventually come to the dialogue for denuclearization."
Possible Summit
In Tuesday's talks, South Korea announced that North Korea would join the Olympics next month in Pyeongchang, a ski town near their shared border. In a further olive branch, Moon said Wednesday he was willing to sit with Kim under the right conditions.
"But it can't be a summit for the sake of summit," Moon said. "For a summit to happen, the right circumstances should be formed and some kind of outcome should be guaranteed. If those circumstances are met and the outcome is guaranteed, I'm ready to hold a summit with Kim anytime."
Moon added that President Donald Trump deserves "great credit" for bringing North Korea to talks this week, citing the U.S.-led campaign to increase pressure. Trump and other U.S. officials have so far expressed support for the dialogue while playing down the prospect of a bigger breakthrough.
The administration is in close contact with South Korean officials, who will ensure North Korea's participation in the games "does not violate the sanctions imposed by the UN Security Council" over its nuclear program, the U.S. State Department said in a statement Tuesday.
China welcomed the "positive outcomes of these high-level talks," foreign ministry spokesman Lu Kang said in a regular press conference Wednesday, adding that Beijing hoped the talks and the Winter Olympics would help to ease tensions. "The international community should give full support and understanding to such efforts."
— With assistance by Jihye Lee, and Shinhye Kang
(
Updates with China response in final paragraph.
)
Before it's here, it's on the Bloomberg Terminal.
LEARN MORE