ECB Hawks Take the Lead on QE Debate as Doves Stay Quiet
By
Weak inflation despite strong economic growth poses a dilemma

Accounts of December policy meeting will be published Thursday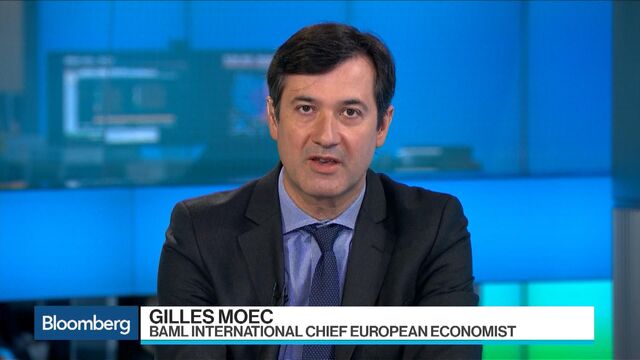 As the European Central Bank enters 2018, the debate over its stimulus plans is being dominated by policy makers warning against keeping policy ultra-loose for too long.
With the euro-area economy expanding solidly after three years of negative interest rates and quantitative easing, hawks such as Bundesbank President Jens Weidmann have stepped up calls for a definite end-date to bond purchases. Even Executive Board member Benoit Coeure, a leading proponent of QE when the region faced deflation, now sees a "reasonable chance" the latest extension of the program to September will be the last.
The key though is whether President Mario Draghi and doves such as chief economist Peter Praet also adjust their positions. They've stayed quiet this year, letting the latest slowdown in inflation do the talking. Investors should gain an insight into the discussion on Thursday, when the account of the Dec. 14 Governing Council meeting is published.
"If we continue to hear only from the hawks there may be a perception that the mood has shifted in their direction more than it actually has," said Oliver Rakau, an economist at Oxford Economics in Frankfurt. "The numbers clearly show the recovery is more sustained now, but I wouldn't expect any sudden shift in ECB policy."
What Our Economists Say
"Without underlying pay pressure, measures of domestically generated inflation will be unlikely to show any sign of life. So it looks like the ECB will keep buying assets beyond September."

-- Jamie Murray, Carl Riccadonna, Dan Hanson and Maxime Sbaihi, Bloomberg Economics

For more, see our Euro-Area Insight
Money managers are watching central banks around the world for signs the period of extraordinary stimulus is coming to an end. The Bank of Japan jolted bond markets on Tuesday with a surprise reduction in purchases of longer-maturity debt, and the potential end of the three-decade bull market in bonds is a persistent topic.
Germany's 10-year bond yield has jumped to 0.54 percent from 0.32 percent since the ECB's December policy meeting. The euro has climbed more than 1 percent over that period, though it softened in recent days after weak inflation data.
Bond holdings under QE will reach 2.55 trillion euros ($3 trillion) by September -- equivalent to a quarter of gross domestic product, similar to the Federal Reserve's program at its peak -- and officials have pledged to do more if needed. Their own projections don't see inflation back in line with the goal of just under 2 percent until at least late 2020.
Half and Half
Yet economic growth is the fastest in a decade, and the broadest in the single currency's history. That's giving credence to the arguments of minority, if vocal, dissenters such as Weidmann and Dutch central-bank governor Klaas Knot who say price pressures are mounting and the ECB must stop before risks such as elevated asset valuations undermine financial stability.
Half of the six-member Executive Board, which proposes and implements policy, appears to be reluctant to extend QE again. In addition to Coeure, Yves Mersch has warned his colleagues that the ECB shouldn't "fall behind the curve" by acting too timidly. Sabine Lautenschlaeger has long been on the record as saying she's skeptical of the need for QE.
Among the other 19 members of the Governing Council, the ECB's decision-making body, Austrian Governor Ewald Nowotny said this month that the end of the bond-buying program is "within sight." Germany's Weidmann, who carries weight as the central-bank chief of the bloc's biggest economy, last weekend reiterated his view that a definite end to asset purchases is justifiable. So far, no one has risen to challenge it.
Status Quo
"Hawks such as Weidmann and Knot are still the outliers, but where they lead, the rest of the council is likely to soon follow," Marchel Alexandrovich, an economist at Jefferies International Ltd. in London, wrote in a client note. Even so, "with core inflation once again disappointing expectations, makes it easy for Draghi to maintain the status quo for another few months."
Euro-area inflation slowed to 1.4 percent in December and the underlying rate, excluding volatile components such as food and energy, held at a meagre 0.9 percent.
One development policy makers will be keenly watching is wage negotiations in Germany, where the IG Metall union is negotiating on behalf of 3.9 million metalworkers and engineers for a 6 percent pay hike and more flexible hours. It'll hold talks with employers such as automakers on Thursday.
Read more: German Metalworker Pay Is Key to the ECB's Next Move on Stimulus
Without a significant pick-up in salaries in Europe's strongest economy, where unemployment is at a record low, the ECB has little reason to believe it's on track to hit its goal.
"Core inflation is still subdued and the German pay negotiations are key," said Piet PH Christiansen, an economist at Danske Bank A/S in Copenhagen. "But in any case, with the strong economy emboldening the hawks, we are in for a more split Governing Council."
Before it's here, it's on the Bloomberg Terminal.
LEARN MORE