Dreamer Court Ruling Adds to Desperate Push for Immigration Fix
By and
'We're plowing ahead,' says second-ranking Senate Republican

President may have upper hand if Supreme Court gets last word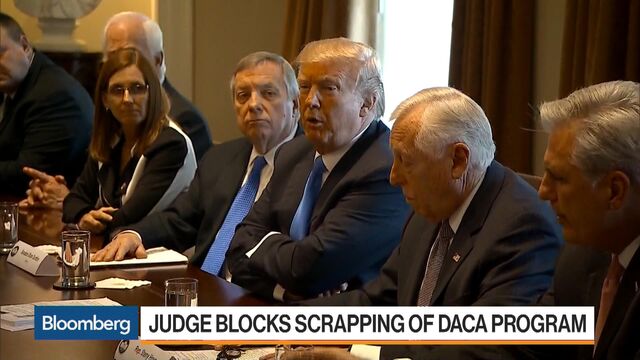 A judge's ruling blocking the Trump administration from deporting hundreds of thousands of younger undocumented immigrants added to the urgency on lawmakers to craft a fast solution to a political quagmire.
The White House, which plans to appeal Tuesday's decision, said Congress must act quickly on immigration reform or risk that the Supreme Court will overturn the ruling and end the Deferred Action for Childhood Arrivals program, legislative director Marc Short said on National Public Radio.
Many lawmakers also want a quick fix after a ruling that injected "additional uncertainty into the mix," the second-ranking Senate Republican, John Cornyn of Texas, told reporters on Capitol Hill. "We're plowing ahead like we discussed yesterday at the White House."
The decision may give Democrats and DACA supporters a stronger hand in their push for legislation to protect the DACA participants, known as Dreamers, as part of a broader immigration reform bill, said Lori Nessel, a professor at Seton Hall University School of Law in Newark, New Jersey.
Immigration Agenda
But that leverage could disappear if the legal battle quickly escalates to the nation's top court. The Supreme Court already has come to President Donald Trump's rescue on another piece of his immigration agenda, keeping his travel ban alive even after lower courts declared it unconstitutional. The justices also let stand a ruling that killed an Obama-era policy related to DACA -- which may give the Justice Department confidence that it will prevail using similar legal arguments.
Hans von Spakovsky, with the conservative think tank Heritage Foundation, said Trump will win in the end. He compared Tuesday's ruling by a San Francisco federal judge to what he said were flawed decisions by other jurists against Trump's travel restrictions targeting several Muslim-majority countries.
"This is another political decision by another biased judge that is not based on the law," von Spakovsky said. "It will be reversed when it gets to the Supreme Court in the same way that the politically motivated decisions against the president's travel orders were reversed."
Trump on Wednesday took to twitter to express his dissatisfaction with the ruling by U.S. District Judge William Alsup, who was appointed by President Bill Clinton, calling it an example of "how unfair and broken our court system is."
Some legal experts said the administration has only itself to blame that it didn't win the opening round of the court fight.
Broad Discretion
Presidents have broad discretion in creating guidelines for the handling of immigration cases, including which groups to protect or target, but they still need to cite valid reasons for their actions, according to Denise Gilman, an immigration professor at University of Texas School of Law in Austin.
"The decision by the administration to terminate DACA relied on the flawed legal premise that DACA, as an administrative program, was not legal, when in fact there has been no determination by any court that the program is not legal," Gilman said in a phone call.
Trump and Attorney General Jeff Sessions, a passionate critic of immigration, both legal and illegal, would have fared better in the DACA litigation if they'd crafted legitimate policy reasons for ending the program, said Shoba Sivaprasad Wadhia, a clinical professor of law at Penn State Law.
'Empty' Argument
"The administration has long -- and dishonestly -- relied on an empty legal argument to justify why it 'had' to rescind DACA," Wadhia said in an email. "A decision to rescind for policy reasons may have stronger legs than the false premise that DACA is not lawful."
The next step in the legal fight will almost surely be before a court that hasn't shown a lot of love for Trump. The San Francisco-based Ninth Circuit Court of Appeals previously ruled against multiple versions of Trump's travel ban and is now weighing a lower court's ruling against the administration's plan to withhold federal funds from so-called sanctuary cities that refuse to cooperate with federal immigration authorities.
But just as certainly, the Ninth Circuit won't have the last word.
Despite the San Francisco judge's solid reasoning, Trump's foes will have less luck at the nation's highest court, where the strong emotions surrounding the case will have less impact, said Peter Spiro, an immigration law professor at Temple University.
"I think the Supreme Court looks at these questions more broadly and looks at the administrative law more generally, and it's less likely to be affected by atmospherics," he said.
In October 2016, the Supreme Court rejected a last-ditch bid by President Barack Obama's administration to revive his plan to shield millions of unauthorized immigrants from deportation -- a policy that was separate from but similar to DACA.
That decision was on a 4-4 vote -- with the tie effectively rejecting Obama's request for reconsideration. This time around, the court is fully staffed with Trump's appointment of Justice Neil Gorsuch.
— With assistance by Laura Litvan
Before it's here, it's on the Bloomberg Terminal.
LEARN MORE