Deutsche Bank Ties May Spur Recusals by New U.S. Attorneys
By
Berman's work for bank dates to Khuzami's term as legal chief

Lender's role in Russia laundering is still unresolved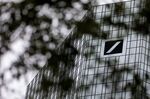 The newest U.S. prosecutors in Manhattan don't need formal introductions to Deutsche Bank AG.
Geoffrey Berman, who was appointed by the Trump administration as Manhattan's interim U.S. attorney last week, has longstanding business ties to the German lender, though of a considerably lower profile than his new deputy.
A decade ago, Berman was brought in to do legal work for Deutsche Bank when Robert Khuzami was its general counsel in the U.S., according to three people familiar with the matter. Now that Berman has been tapped for the Southern District of New York, Khuzami has become his deputy.
Ex-SEC Enforcement Chief Khuzami Named No. 2 N.Y. Prosecutor
It's possible that the men would seek to recuse themselves from actions involving Deutsche Bank, which is under investigation by the Manhattan office and the Justice Department in Washington for enabling the movement of money out of Russia through mirror trades.
Most everything involving Deutsche Bank has become a fascination for Trump critics interested in what information might be gleaned from its role as banker to President Donald Trump and others in his inner circle. Prosecutors in offices outside Manhattan have sought bank records relating to former campaign chairman Paul Manafort and Trump son-in-law Jared Kushner, people familiar with the matter have said.
Berman's work on behalf of Deutsche Bank -- while with the law firm Greenberg Traurig -- continued until recently, according to one of the people familiar with his work for the bank. Khuzami, who served previously as a U.S. prosecutor in Manhattan, left Deutsche Bank in 2009 to become the enforcement chief at the U.S. Securities and Exchange Commission.
Ethics Rules
When a matter arises involving the personal or previous professional interest of the U.S. attorney, he or she consults with the general counsel of the executive office of U.S. attorneys to determine whether a recusal is necessary, according to Justice Department guidance on the matter. 
Richard Painter, who was the chief White House ethics lawyer to former President George W. Bush, cited Bar Association ethics rules that would call for Berman to recuse himself from matters related to those he worked on as a private lawyer. Under federal rules, he would recuse himself from most Deutsche Bank matters for one year, Painter said.
A spokeswoman for Berman at the U.S. attorney's office declined to comment.
Berman's connection to Deutsche Bank thrived, according to the people, even after Khuzami left the bank.
Greenberg Traurig primarily represents the bank in arbitration cases before the Financial Industry Regulatory Authority, known as Finra, one of the people said. But Berman also represented several Deutsche Bank executives who weren't charged but were swept up in a big tax-evasion case.
Mueller Probe
In the last year, Deutsche Bank's relationships with Trump and Kushner have thrust it into the glare of Special Counsel Robert Mueller, who is investigating Russian interference in the 2016 election and related matters.
The bank has been besieged with requests by Democrats in Congress, most notably Representative Maxine Waters of California, for documents related to its real estate loans to the president. Because Republicans control Congress and they haven't supported this effort, the bank hasn't been forced to comply.
Deutsche Bank has settled with the U.K., New York's Department of Financial Services and the U.S. Federal Reserve, admitting that anti-money-laundering lapses allowed wealthy Russians to covertly move some $10 billion out of the country from 2011 through 2014. The Justice Department is still investigating the matter, and the bank has said it's cooperating.
Berman, a onetime law partner of former Mayor Rudy Giuliani of New York, was named the interim U.S. attorney for Manhattan on Jan. 4, succeeding Joon Kim, who was also a temporary appointment. News reports that Trump interviewed Berman personally have prompted Democratic lawmakers to say he should be disqualified from the job, either on an interim or permanent basis.
Law Firms
Along with other major global banks, Deutsche Bank has been investigated in the U.S. and U.K. for issues as varied as manipulation of interest rates to the sale of residential mortgage backed securities. It has relied heavily on high-price law firms such as Sullivan & Cromwell, Paul Weiss and Latham & Watkins to resolve these inquiries.
At Greenberg Traurig, Berman worked aggressively to defend the bank's interests without running up excessive legal bills, one of the people said.
Deutsche Bank declined to comment on its relationship with Berman and his former law firm. A Greenberg Traurig spokeswoman also declined to comment. The bank has said that it has cooperated fully with all of the regulatory investigations into its conduct.
Before it's here, it's on the Bloomberg Terminal.
LEARN MORE