Corporate Brazil Is Moving Past Its Scandals
By and
Investors want closure, and companies are trying their best

Stocks keep hitting records and business confidence is back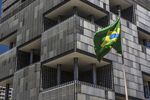 Talk of a recovery abounds in corporate Brazil today.
Of course, what constitutes improvement for a sector crippled by a pay-for-play scandal and multi-year recession can seem tepid, even a bit curious, to the outside observer.
Mostly, investors seem to want closure, and companies are trying their best. Petrobras, the state-controlled oil giant at the heart of the Carwash probe, agreed to pay $2.95 billion to compensate U.S. investors who lost money amid the crisis; phone operator Oi SA is ending an 18-month battle with creditors by committing to a $19 billion debt restructuring plan; and the parent company of meatpacker JBS SA is in talks to reach a new leniency agreement to settle outstanding claims against the company.
These kinds of developments, when taken together, are helping convey that some of Brazil's biggest corporations are finally putting the scandals behind them. Stocks are hitting new records almost daily, business confidence is at the highest since 2014 and, adding to the buoyant mood, the economy's long-awaited rebound is starting to materialize.
"This year will be better than 2017," said Jorge Simino, the chief investment officer at Funcesp, Brazil's largest pension fund backed by private companies. "Companies are in a much better position after trimming personnel, becoming more efficient, bolstering their finances and completing liability management. They are going to make money."
Petrobras's agreement in the U.S. case was the latest of a string of billion-dollar settlements made by Brazilian companies seeking to put behind their entanglement in the so-called Carwash corruption probe, which focused on kickbacks for building contracts. Petrobras and the construction giant Odebrecht, who were at the center of the investigation, have paid $6.5 billion in U.S. fines and investor compensation. The amount doesn't include the deals Odebrecht made in Latin American countries where it admitted to paying bribes.

The state-run oil producer, formally known as Petroleo Brasileiro SA, is the best example of a successful turnaround, according to Henrique Morato, a credit analyst at Aberdeen Asset Management PLC in London. The company's management changes, asset sales and business plan have won back investors, with the shares quadrupling from their 2016 lows.
JBS, the world's largest meatpacker, has also recovered from a scandal sparked by some of its executives agreeing to plead guilty to bribery, which sent shares tumbling 50 percent and forced the company to scrap plans for a U.S. initial public offering.
While the brothers who control the company remain in jail, JBS is benefiting from strong demand in the U.S. and is expected to quickly deleverage, reducing refinancing risks. Its parent company is renegotiating an agreement to pay over 10 billion reais ($3.1 billion) in penalties to encompass more of the pending cases it faces and move past the scandal.
In late December, troubled phone operator Oi put an end to months of fighting between shareholders and creditors, getting approval for a plan to bring it out of bankruptcy protection after a dramatic 15-hour meeting in Rio de Janeiro. The plan gives creditors a stake of as much as 75 percent in the company, and is still likely to face legal challenges by shareholders unhappy with the dilution.

There is, of course, a lot that could still go wrong in Latin America's largest economy. Politicians like former House Speaker Eduardo Cunha and former Finance Minister Antonio Palocci remain jailed and could negotiate plea deals that drag new companies into trouble. The government is still trying to get enough support to pass its flagship pension overhaul in Congress, and failing to do so could earn Brazil another sovereign downgrade.
And then there's the elections. Former President Luiz Inacio Lula da Silva, who is widely disliked by investors, is leading the early polls as he appeals a conviction for corruption that could keep him from running. Jair Bolsonaro, the current runner up in polls, isn't as brazen in his opposition to the current government's reform agenda as the former president, but his economic policy is an unknown. With about nine months to go until the vote, market-friendly candidates like Sao Paulo Governor Geraldo Alckmin and Finance Minister Henrique Meirelles poll below 10 percent.
Bulls like Will Landers, a managing director at BlackRock Inc. in New York, are undaunted. They say strong fundamentals should be enough for the country to endure the chaos of elections amid positive earnings momentum.
"Brazilian companies are in great shape," said Landers, adding that the Ibovespa could return as much as 30 percent in dollar terms this year if all goes well. "Balance sheets are relatively clean, commodities are helping, banks are super well capitalized, consumer markets are benefiting. We can keep a portfolio a little more aggressive."
Landers and Morato both cite the retail industry as poised to benefit from the economic recovery, and BlackRock's Latin America fund recently added retailer Magazine Luiza SA to its holdings. Officials at Opportunity, the largest Brazilian equity fund not owned by a major bank, also said last year that they were buying more retail stocks.
Meat producers are also expected to have a better 2018 amid an outlook for stronger exports and domestic demand, and ample supplies of livestock and feed. None of the 14 analysts that cover Minerva SA recommend selling the shares, while JBS and Marfrig Global Foods SA have just one sell rating each and BRF SA has two.
Evandro Buccini, an economist at Rio Bravo Investimentos SA, an asset manager that oversees 12 billion reais, said stocks will be supported this year by strong buying from pension funds, which need to boost returns as interest rates on bonds decline.
"We are optimistic about Brazilian companies because prospects for growth are better, worker productivity will outgrow wages and interest rate will be lower," he said. "Commodities demand is good, confidence is strong and we expect consumption to grow."
— With assistance by Gerson Freitas Jr, Fabiola Moura, Sabrina Valle, and Aline Oyamada
Before it's here, it's on the Bloomberg Terminal.
LEARN MORE